The Covid-19 pandemic transformed nearly every aspect of our lives. One of the most notable shifts was our collective and widespread efforts to remake our personal spaces to add more comfort, beauty and utility. Afterall, our homes became more than where we lived, but where we learned and where we worked, too.
Accompanying an unprecedented wave of home improvement projects nationwide was a resurgence in interior design with color at the forefront. It is a focus that shows no signs of waning.
"People were looking for joy anywhere they could find it and color was a source for so many. And it still is," said Vanessa Peterson, PPG color styling manager, consumer products.
The trend not only extended to the kitchens, but everything housed in them, including cookware and bakeware. Gone are the days when consumers purchased skillets and pans based on performance alone.
While manufacturers still primarily use black for pan interiors, colorful exteriors are becoming a dominant trend among consumers and manufacturers are responding by embracing color like never before.
"People are realizing more and more that their cookware and bakeware can complement other colors in their homes including cabinetry, furniture, textures and wall colors. Consumers want their spaces to be coordinated in very intentional ways and small appliances and cookware are becoming a big part of that," Vanessa continued.
This color revolution in cookware is something that Vanessa has seen before in her work with consumer electronics manufacturers.
"Today, smart phones and wearable devices are often seen as an extension of personal fashion, so color plays a huge role in how well a product sells. Cookware is following suit and is being viewed as part of the overall interior design of the home," said Vanessa.
While PPG is a leading maker of high-performance coatings for industrial and consumer cookware brands around the world, the company is also valued for its leadership in color development and forecasting. These dual strengths are becoming increasingly important to manufacturers in the industry as they strive to offer products that balance function with beautiful aesthetics.
PPG's Annual Color Forecast Unmatched in Coatings Industry
Each year, PPG color stylists meet to identify the coming year's signature color and supporting hues. These experts analyze emerging trends across the globe and in the wide array of industries, from automotive to architectural applications.
The annual color workshop brings in more than 35 stylists from nearly a dozen different countries and varying industries to review the political, cultural, economic and social shifts that impact color preferences. The result is a color forecast unrivaled in scope in the coatings industry.
Based on the work of this team, Vining Ivy, a jewel-toned blue-green teal, was selected as PPG's 2023 color of the year, along with 45 complementary hues organized into three distinct palettes: Origin, Duality and Serenity.
Working with lab and technical teams, PPG color stylists adapted a dozen of these colors for a 2023 kitchenware color trends collection.
Download the 2023 non-stick colors brochure here >
PPG Creates Custom Colors Quickly
For kitchenware manufacturers, these palettes are often just the beginning of the color procurement process. What many require are distinctive finishes that set them apart from their competitors. And they often need them fast.
To help them keep pace, PPG has amassed the top 40 colors in the kitchenware and bakeware space, based on consumer preference. These colors are available as is or can be quickly customized by adding new pigments or special effects like micas, diamond sparkles and shimmers to create unique, new looks.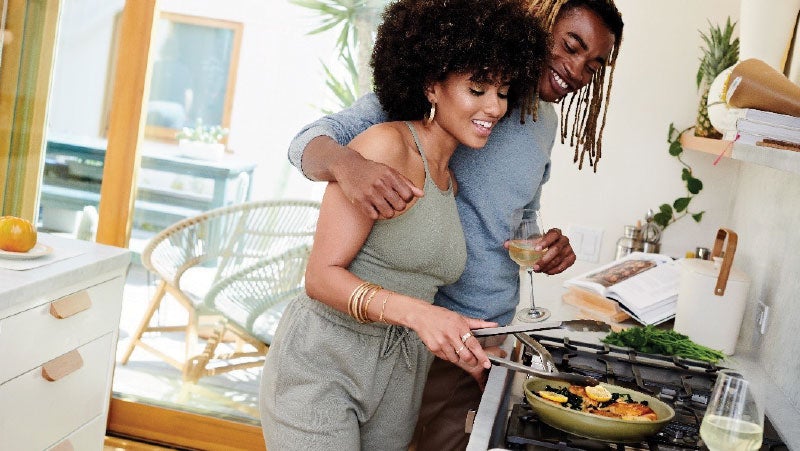 Since the color only needs to be modified, the process offers much quicker turnaround than developing a whole new shade from conception. Another time-saving aspect is that the colors have already been tested to ensure that they meet all food contact compliance regulations without the need for additional, and often, time-consuming review.
PPG technical expertise is also critical for companies looking to create whole new hues since not every color will meet regulatory standards.
"Our team brings a lot of expertise in this area and that is of tremendous value to our manufacturing partners," said Vanessa. "Our colors are not just perfectly formulated from a color perspective, but also food industry compliant."
PPG High-Performance Coatings Capabilities
PPG's comprehensive line of non-stick coatings are available in a range of options for consumer cookware applications including traditional and sol-gel "ceramic" finishes for both pan interiors and exteriors.
They offer the unique combination of excellent non-stick performance and durability and are made without PFOA (perfluorooctanoic acid) and, in sol-gel coatings, PFAS (per-and polyfluoroalkyl substance) substances altogether. Regardless of chemistry, these coatings can be developed to meet specific color, texture and visual effects, with high-release and high corrosion resistance.
With solutions that meet nearly every price point in both consumer and industrial segments, PPG coatings offer the performance and quality customers expect, all while complying with food contact requirements in major markets.
Well-known PPG brands include XYLAN® Plus, ECLIPSE®, QUANTANIUM®, ETERNA, FUSION and SKANDIA XTREME.
PPG is a proud member of the Cookware Bakeware Alliance.
Find out more about PPG's kitchenware non-stick coating offering at Ambiente trade show or at our Digital Kitchenware Event.