Powder Coatings
For more than 30 years, PPG has provided manufacturers and custom coaters with pioneering powder coatings that combine beautiful finishes with exceptional protection performance.
Our comprehensive mix of acrylics, epoxies, epoxy polyester hybrids, polyesters, urethanes and fluoropolymers provide a protective barrier that resists marring, weathering, corrosion and abrasion. PPG's economical powder coatings are available in a wide variety of colors, glosses and finishes.
Specifically formulated without solvents, PPG's family of specialty powder coatings include low-cure, high-transfer efficiency, one-coat extreme protection for sharp edges, dielectric powder and ultradurable powder technology for automotive trim.
From appliances to automobiles, PPG powder coatings deliver protection and aesthetics that endure.
Contact us at ic-na@ppg.com to place an order or for more information.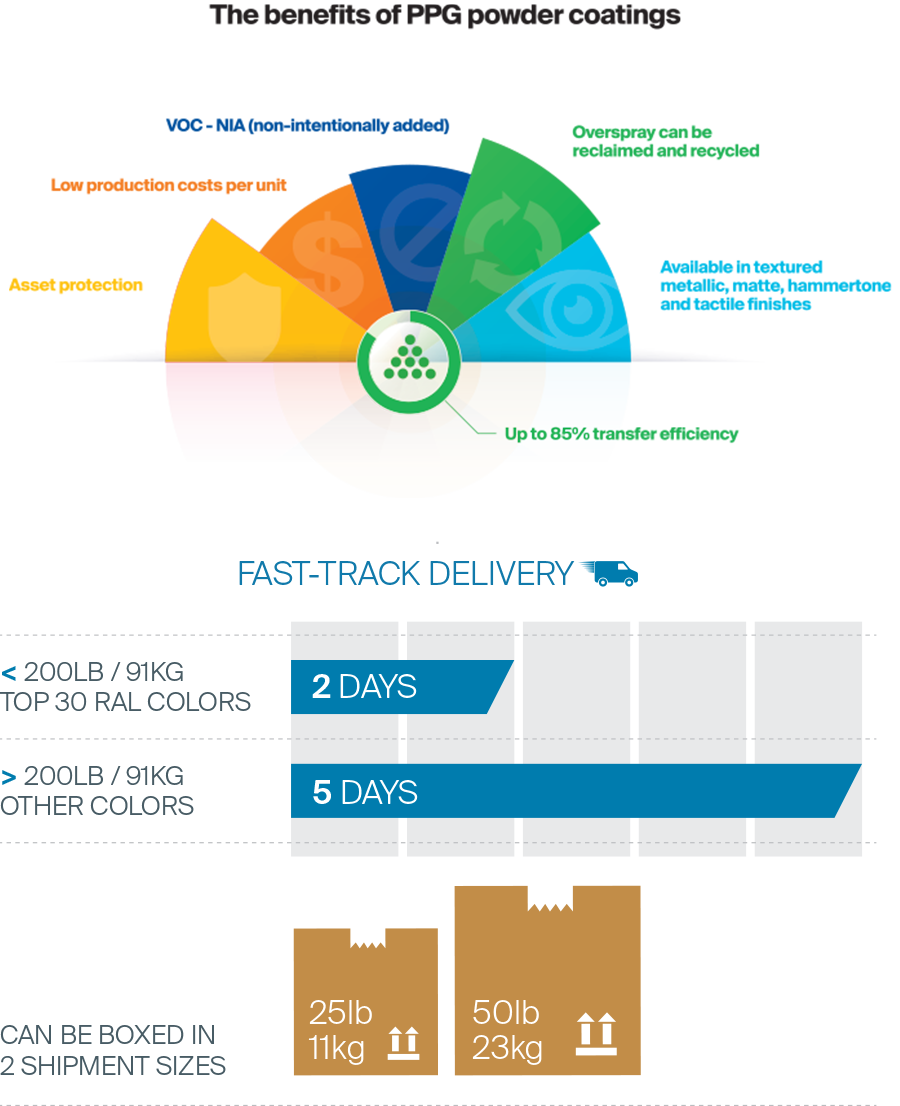 PPG ENVIROCRON® EXTREME PROTECTION EDGE Powder

Envirocron Extreme Protection Edge powder delivers extreme corrosion protection on sharp, hard-to-coat edges in just one coat. With a higher first-pass transfer efficiency, reduced powder usage and 20+ micron edge coverage, this patent-pending breakthrough is ideal for laser, fiber, CO2 plasma cut and sharp edges, louvers, blades and mesh.

PPG ENVIROCRON® HIGH TRANSFER EFFICIENCY (HTE) Powder

With excellent adhesion and strength, Envirocron HTE powder is ideal for complex, difficult-to-coat surfaces. Available in durable and ultra-durable proprietary formulations, this innovation helps to increase output while reducing material usage, energy consumption and maintenance costs with first-pass transfer rates of up to 85 percent.

PPG CORAFLON Powder (AAMA 2605)

Coraflon fluoropolymer powder combines the benefits of one-coat capability with high gloss, outstanding color retention and resistance to chalking and abrasions. It is ideal for monumental buildings, doors, window frames and railings. NEW innovative fluoropolymer coming in 2020.

Speciality Powders

PPG offers a variety of specialty powder coatings that provide exceptional finish quality, a range of glosses, color options and durability. This portfolio includes low-cure powder coatings, electrostatic discharge (ESD) coatings, anti-microbial protected coating, as well as FasTREK, a small-batch custom-powder color solution.

PPG ENVIROCRON® EXTREME PROTECTION Powder

Based on innovative patent-pending technology, the Envirocron Extreme Protection dual-coat powder system is specially formulated to provide exceptional chip and corrosion resistance to extend the life of high-tensile automotive coil springs on OEM vehicles. This dual-coat system is ideal for challenging automotive underbody end-uses, as well as high-impact sports equipment like hockey goal posts.