Pretreatment
PPG is a leading provider of pretreatment products and integrated solutions that enhance, strengthen and protect metal substrates.
We were the first, and still one of the few, global coatings suppliers to offer a complete line of pretreatment products such as multi-metal safe cleaners, ambient temperature cleaners, iron, zinc, and ambient temperature phosphates, as well as thin film treatments.
Our integrated surface preparation, surface treatment and engineered products are designed to meet the demands of various application methods, substrates and end uses.
PPG's technical expertise and innovations are trusted by top OEMs to deliver exceptional corrosion protection and paint adhesion for a wide variety of products in the appliance, consumer electronics, industrial equipment and automotive industries.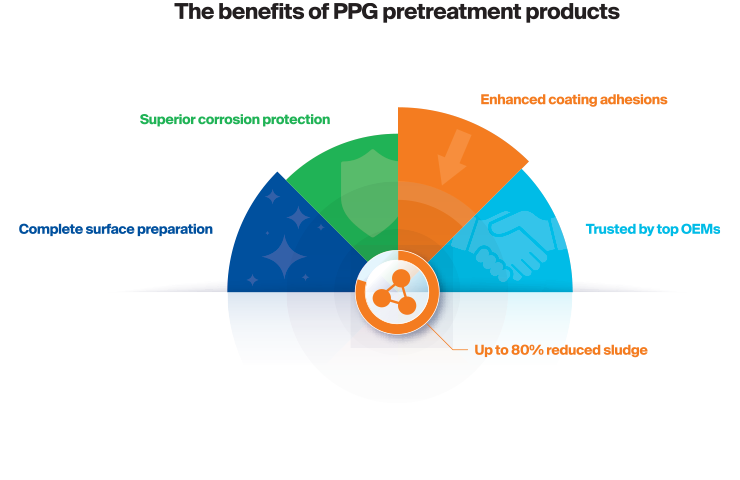 PPG VERSABOND™ Pretreatment

Versabond is a fast, kinetic-efficient zinc-phosphate pretreatment system that improves corrosion resistance on mixed-metal substrates while enabling manufacturers to realize the benefits of extended bath life, reduced sludge and lower processing temperatures.

PPG ZIRCOBOND® Pretreatment

Based on zirconium chemistry and a proprietary blend of additives, Zircobond pretreatment products cut sludge by-product from the pretreatment process by at least 80 percent compared to zinc-phosphate-based products. As an added benefit, Zircobond can be used in existing pretreatment lines.

PPG X-BOND™ Pretreatment

X-Bond zirconium-based, thin-film pretreatment system prepares steel, galvanized steel and aluminum substrates for optimum paint adhesion. With performance equivalent to that of iron phosphates, it provides excellent corrosion resistance and is compatible with low application temperatures.