Our people are the heart of PPG. In this series, we want you to meet the innovators behind PPG Industrial Coatings.
Vanessa Peterson joined PPG Industrial Coatings as a color stylist trainee in 2013, before working her way up to become our U.S. color design manager for consumer electronics in 2019 - alongside running a non-profit helping those experiencing homelessness.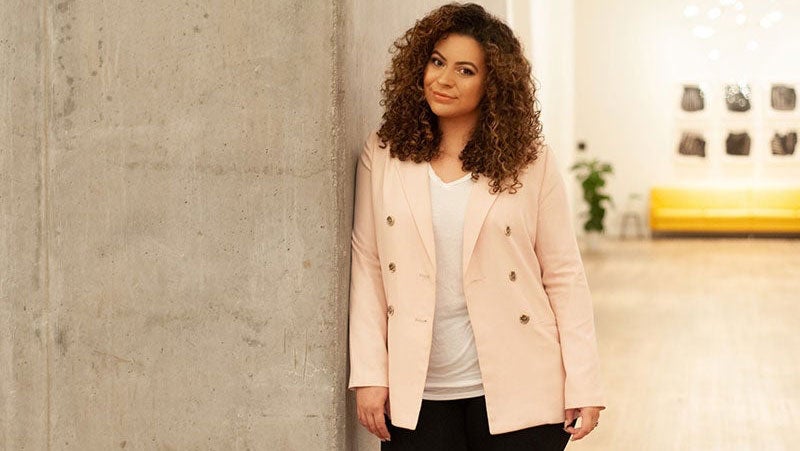 Influencing Design
"Being in a team that curates and produces colors and trends that influence multiple design fields is a huge blessing as a creative."
Vanessa is part of a team that constantly innovates to address challenges in the color space. One project she is particularly excited about is helping customers to adopt more coatings that are waterborne. Not only will this be beneficial to the environment, it will help customers adapt to new coatings regulations while enabling them to produce more sustainable products.
As an active participant in PPG's annual global color trend meeting, Vanessa is influential in PPG's choice of colors that are included in our annual showcased palettes. She shares color trends with customers to help them determine how to incorporate trending colors into their product production.
Customer Communication
"Design teams often have a way in which they describe colors and pigments that can be different from our own interpretation."
One of the most exciting parts of Vanessa's job is learning and establishing a common language with PPG global clients. Vanessa leads her team in growing deeper relations with clients, conducting on-site or virtual color workshops to gather deep insights into customers' color needs. These workshops can shave weeks off approval processes, and serve as a collaborative experience that enables customers to determine, with hands on samples, the exact colors and finishes they desire.
"Color is so subjective and personal. Our goal as a team is to curate a relationship with our clients where they feel like they can trust us with all things color styling."
Humbling Experiences
"I think many of us imagine that we will have these amazing movie-like careers, such as editor-in-chief of Vogue magazine, the second we graduate college."
If Vanessa could offer her younger self advice, she'd pass along the wisdom that a rewarding career takes time and hard work. She believes learning, mentoring and growing is the most powerful thing you can go through.
"That way when your career milestone moments come you are now prepared to take them on with knowledge and experience."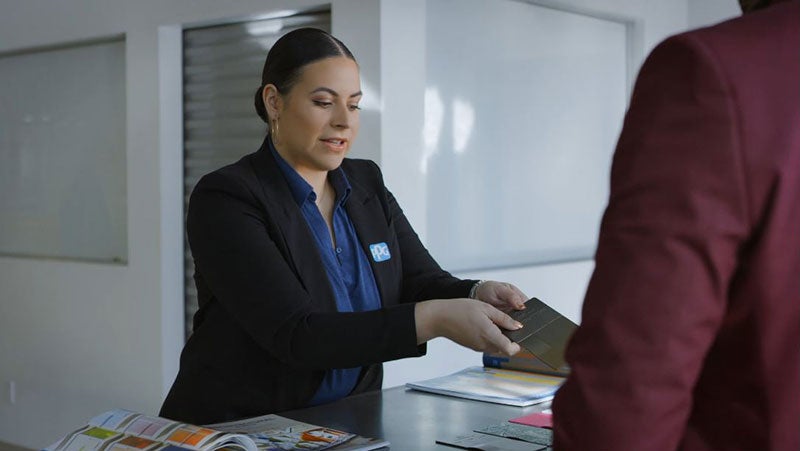 Visibility through Creativity
"We believe that all individuals have the right to be visible through creativity regardless of their life circumstances."
Vanessa's creativity expands to her life outside of work in the form of her and her husband's non-profit organization, Faces of Santa Ana (Faces of Mankind). Vanessa works alongside her artist husband, Brian Peterson, who paints dignified portraits of individuals experiencing homelessness. They use a portion of the proceeds from the sale of the paintings to offer support to those they capture in the portraits.
"Through love and generosity, we aim to transform lives by renovating their new homes, restoring hope, and bring together a community of support."
Through the same non-profit, Vanessa also works with a design partner, Michele, to run a design project called HomeBless, which helps provide a place of peace to those who have previously experienced homelessness. Vanessa describes their efforts as similar to an extreme "home makeover show." Due to the generous donations of supporters, all of the home makeovers are free for the clients who have experienced homelessness.

This experience has enabled Vanessa to bring some of the lessons she has learned back to the workplace.
"I believe when you are able to find light in the darkest of places, and give love to the hardest to love, you learn to take on the challenges of life with grace, humility, courage and strength.
"Bringing those attributes to the workplace allows me to lead my team by encouraging their career journey, inspiring them to strive and grow, while creating an atmosphere of trust and guidance."