Electrocoat
As the company that pioneered electrocoat in 1963, PPG continues to set the global standard for e-coat performance, innovation and technical service.
PPGs comprehensive mix of anodic and cathodic products delivers a corrosion-resistant and chemical-resistant finish that meets both standard and high-edge requirements. Our e-coat products have low applications costs and are specifically formulated without solvents and heavy metals.
More efficient than other dip applications, e-coat is highly automated and delivers 98 percent transfer efficiency, color consistency and uniform film build on even the most complex metal parts.
It is the coatings system of choice for makers of military and HVAC equipment, automotive parts, appliances and fasteners.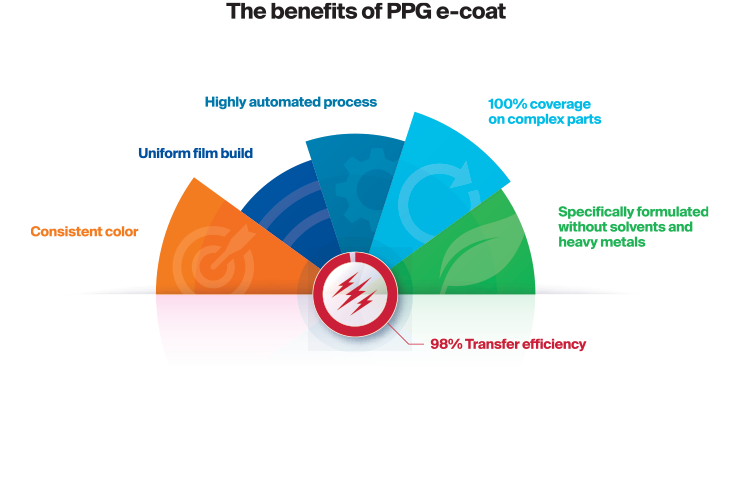 PPG POWERCRON® ADVANTEDGE™ Electrocoat

Powercron Advantedge is a ninth-generation tin-NIA (not intentionally added) electrocoat specifically engineered to provide high-edge protection of cut, stamped or formed edges on complex metal parts. Cure temperatures as low as 320°F (160°C) can help manufacturers reduce energy costs and related carbon emissions.

PPG POWERCRON® Electrocoat

PPG is a leader in epoxy and acrylic electrocoat for industrial applications. Our Products include black and grey cathodic epoxy electrocoat, PPG POWERCRON® 6th Generation products for use on automotive parts, HE (High Edge) versions for both frame and small part specifications, as well as PPG POWERCRON® ADVANTEDGE™.

PPG FRAMECOAT® II: Electrodeposition Coating

Framecoat II is PPG's high-performance cationic epoxy electrocoat technology that provides excellent edge coverage with the added benefit of an improved surface profile. Formulated without lead, it is a state-of-the-art electrodeposition primer formulated to deliver improved corrosion resistance for automotive parts and light-truck chassis components.

PPG ELECTROPOLYSEAL® Electrocoat

Designed specifically for bulk applications, this system offers excellent corrosion protection, outstanding adhesion and precise torque control in a range of performance options. A perfect fit for fasteners and other small parts, Electropolyseal e-coat does not fill recessed heads or threads.