PPG's state-of-the-art industrial coatings are trusted by businesses around the world, but how much do you know about the people behind our brand and our products?
Meet Arne Mielke, PPG's technical manager, powder coating labs, Zuffenhausen, Germany. We chatted with Arne about powder coatings technology and how he tackles the daily challenges that come with his role.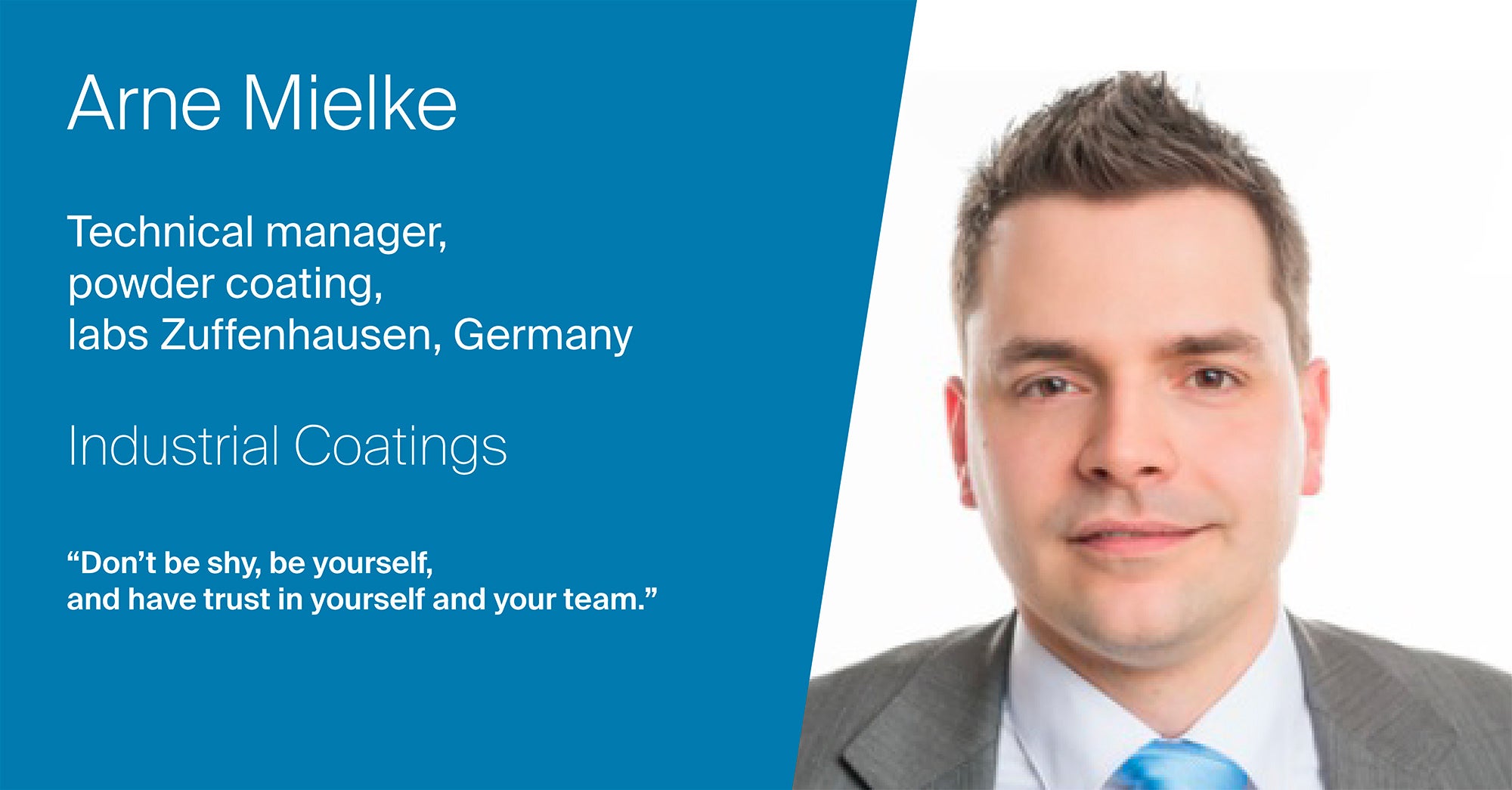 Passionate about sustainable solutions
After a chemistry trainee program at BAYER AG as lab technician in 2003, Arne started his studies at the university of applied sciences in Krefeld (city located northwest of Düsseldorf, Germany).
He completed his degree in chemical engineering in 2007 and started his career in powder coatings covering various roles in R&D. In 2015 he joined Wörwag, a global coatings maker, that PPG acquired in 2020.
After six years in the powder industry as the director of powder coatings labs, Arne's interest in more sustainable coatings solutions is as strong as ever. "Being the technical manager for powder coatings puts me in direct contact with customers, and it is part of my responsibility to find suitable solutions that fit customers' needs. I am always looking toward the future, continuously researching and developing products to help us reduce our environmental footprint and that of our customers."
Arne's role in developing powder coating solutions is well-suited for his passion.
In terms of sustainability, powder coatings offer advantages over other coatings technologies at every point in the product lifecycle. Some of these benefits include:
Enhanced durability
High transfer efficiency and the ability to reclaim powder which translates into cost savings
Ease of use
Special effects like textures, veins and hammertone finishes
No solvent required for clean-up
VOCs NIA (not intentionally added)
Finding fulfillment at work
Arne understands that life at work can be challenging, especially in leadership and management positions. While he believes that there is no one-size-fits-all formula to address every situation, framing challenges as opportunities for learning and personal growth instead of problems helps him manage stress and find workable solutions.
One of the most important and practical lessons Arne has learned in his professional life is that a trustworthy work environment is beneficial to a healthy and happy career. His advice to his colleagues is: "Don't be shy, be yourself, and have trust in yourself and your team."
Find out more about PPG's powder coatings technology.