Over the past few months, leading coatings and paint makers like PPG have declared their 2023 colors of the year (COTY) in rapid succession.
While the anointing of an annual hue isn't new (these announcements date back to the early 2000s) or unique among these companies, PPG's process to identify it and the range of products that will be influenced by it is.
By now, you may have read (and hopefully watched the striking video) about Vining Ivy, the blue-green hue chosen as PPG's 2023 color of the year.
But how was it crowned the color to watch next year?
Here's a look at PPG's collaborative and multinational trends forecasting process that stylists and product designers use to shape the color direction of a broad array of products.
PPG's Color Forecasting Process in the Covid Era
At the heart of the COTY process is the annual global color workshop, which has been held virtually since 2020.
This year's workshop brought together nearly three dozen color stylists from PPG color-centric business divisions like architectural, automotive, consumer electronics, aerospace and industrial and from 12 different parts of the world.
The in-person meeting would normally take a week to identify the "it" color and to develop the accompanying themes. Since it was virtual, the process took nearly two-and-a-half weeks to accommodate various time zones and screen time breaks.
But the pandemic didn't just change the logistics of the color workshop; Covid-19 continues to shape color trends around the world.
Pandemic continues to drive color choices
Color preferences don't occur in a vacuum. The popularity of certain colors and designs is a reflection of a mood formed by social and cultural trends. These trends profoundly influence how people respond to certain colors.
Some years, the collective mood of the world is easier to read, which makes the color selection quicker. This was not one of those years.
"I've been part of this annual color meeting for about nine years," said Vanessa Peterson, PPG global color manager. "But this year was one of the most intense."
Vanessa explained that the effects of the pandemic are still being felt, but in varying degrees across the world. These experiences influenced the collective moods of the stylists and their customers in vastly different ways.
It's not surprising that passions often run high among a group of professionals whose livelihoods revolve around color. "The kick-off was tough," said Vanessa. "The disparity among regional favorites was pretty significant."
While the decision making is often hard, the team powers through it with sensitivity to cultural differences and needs of different global regions and customer bases.
With such divergent experiences, it was critical for the stylists to do a lot of analysis about significant cultural events in each region to identify micro and macro trends.
"We really start with loose abstract concepts from our respective regions and industries and then we slowly break them down into more concrete, real world examples," said Vanessa.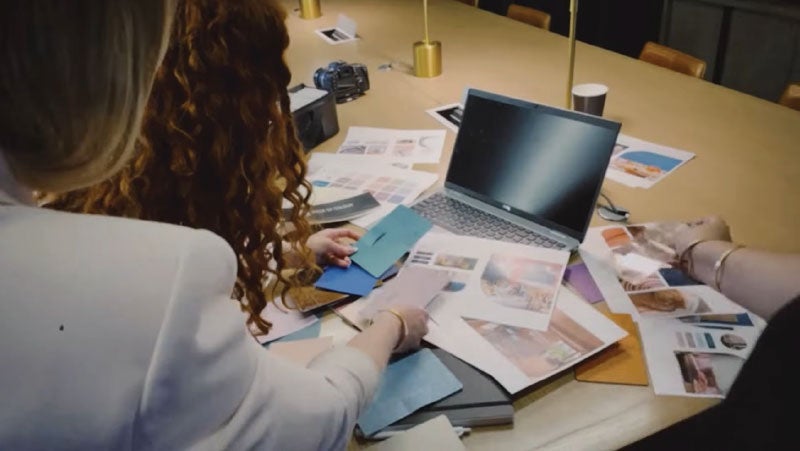 The Tools of the Color Trade
In preparation for the color trend forecast process, each stylist comes to the proverbial table with research from their respective industries, as well as the latest trends in consumer products, fashion and design.
While backed by a great deal of research and trend analysis, so much about color is based on how the population is feeling. It's up to the team to gauge the collective mood to assess where color trends are heading.
Of course, over the past two-and-a-half years, the world has navigated some unprecedented and troubling times, leaving us wanting more kindness, human connections and mindfulness.
"Covid-19 led to a shift in preferences to colors that are soothing, softer hues, including various shades of green" explained Vanessa.
The Reign of Green
Vining Ivy is the second consecutive year that PPG selected a shade of green.
The team cites the ongoing pandemic as a major influencing factor. While last year's Olive Sprig was soft and soothing, this year's green is more saturated and bold, a reflection of the current climate as we step back into the world more fully.
But like its predecessor, Vining Ivy helps people to feel grounded and connected to nature and focus on health, wellness and rebirth.
"Green continues to be a major trend. It has infiltrated the market and industry in such a powerful and profound way that it was impossible to ignore," explained Vanessa.
The Reflection Collection
But the trends forecasting process goes far beyond identifying a singular color. It's about creating an entire color story that transcends industries, time zones and cultures.
What the team strives for through research and intense discussion is a harmonious storyline that helps to bring color trends to life in meaningful, tangible ways.
Part of the forecasting process is developing distinct, yet complimentary color stories, based on the most influential factors behind the top trends, captured under an overarching theme.
The 2023 theme is Reflection, a palette of 45 shades organized into three different color stories: Serenity, Origin and Duality.
Serenity is a gentle palette of milky pastels, watery tones and warm neutrals, reflecting our desire for calm and solitude in a chaotic world and inspires a sense of renewal and peace. Origin captures the authentic beauty of nature and cultivates a sense of wonder and connectedness to the world around us. Duality leans into contrasts and is a means of self-expression through bold and bright shades, clean pastels and strong neutrals.
The entire Reflection palette lends itself to both traditional and modern design and is expected to influence the styling direction of a broad range of products, including cookware, consumer electronics, office furniture and architectural building applications.
What's Next?
With solutions in every major coating technology and leadership in color, PPG shapes the styling direction of more products and surfaces than any other coatings maker.
With the 2023 color trend forecasting process behind them, the real work is just getting started for the global team of stylists.
"Product designers and stylists rely on our trends forecasting process to help them create products that sell and color is a huge part of it," said Vanessa." "What comes next is that we work with our respective customer bases to adapt these trends to their specific product applications and industries."