Vanessa Peterson, color design manager at PPG, was recently interviewed by Products Finishing to discuss what goes on behind the scenes in our color design studio.
During the interview with the publication's editor-in-chief, Vanessa shared a little about the processes behind creating color for industrial coatings and how the pandemic has required her team to take a new and different approach to finding the perfect colors.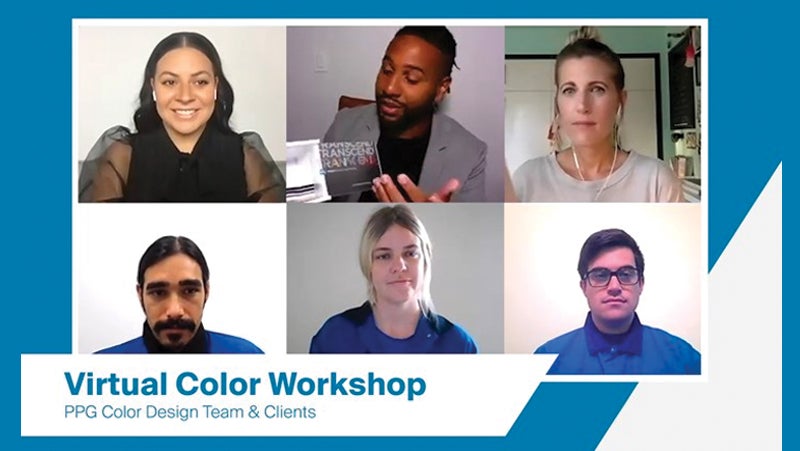 Connecting Virtually
Prior to the pandemic, the color design team would have face-to-face color styling workshops with clients to see the colors in person, in different situations and lighting. With limited ability to meet in person, Vanessa and our team of color stylists created a virtual color workshop approach to provide clients with immediate access to PPG's color expertise.
Since the color consultation and development process can take six to eighteen months, it was critical to find an efficient way to help clients find the perfect colors for their needs.
By connecting virtually with customers to learn about the mood, feelings and direction that they want for their colors, the team can quickly send samples.
"This process enables us to quickly generate color samples, analyze trends and create unique designs and textures," Vanessa shared. "Once we have an idea of what our clients want, we then create custom color palettes to our client's specifications, when approved those colors are quickly transferred to our China production lab where they conduct rigorous testing to ensure it matches with the client's color and technical needs, such as requirements for durability."
While not as quick as the in-person process, the benefits of the virtual service will endure after the pandemic because it gives the color styling team the ability to consult with customers when travel and face-to-face meetings aren't possible.
Learn more about our color studio in the Products Finishing article here: https://www.pfonline.com/articles/the-color-wheel-keeps-turning