Through the introduction of our ENVIROCRON™ Extreme Protection Edge powder coating technology, PPG has solved a long-standing issue of edge coverage.
Until recently, it was difficult for coatings to maintain a layer of protection throughout the curing process on a sharp edge, particularly cut edges on steel. Poor edge coverage would lead to deterioration, with rusting and corrosion along the exposed edges-a significant issue and a prime opportunity for innovation.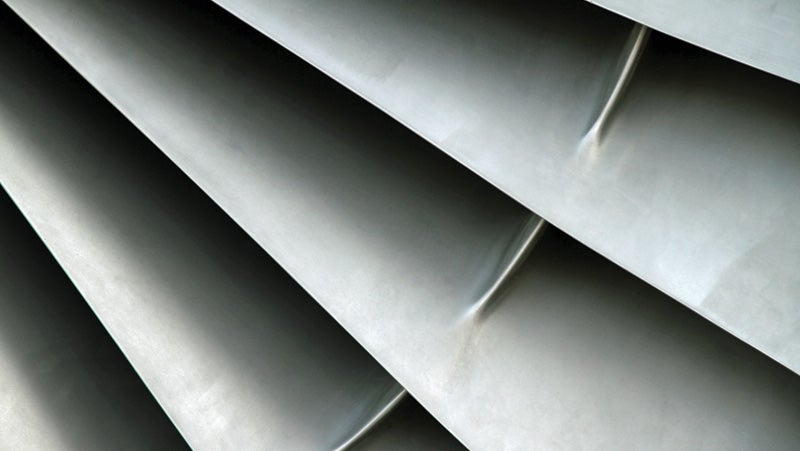 Reshaping the Industry
PPG recognized the customer need for a coating that could be applied in one-step, would provide better corrosion protection and have exceptional edge coverage.
For three years, we researched and developed the technology required to produce Envirocron Extreme Protection Edge powder coating. Now in market, our high-edge powder coating exceeds the corrosion protection performance of other available technologies.
While laser cutting is necessary in the production of metal parts, it creates sharp edges that are difficult to pre-treat and coat due to the formation of oxide layers from the cuts. Even after a conventional coating application and cure, these sharp edges essentially remain uncoated and are a point of entry for corrosion to start once they are exposed to the elements.
One solution to improve edge protection has been edge rounding of laser cut parts prior to the coating application. This process, however, comes at a significant cost. Therefore, the introduction of a single-coat powder that can coat laser-cut edges during application, and stay on those edges after curing, is a huge step forward in reshaping the industry.
Beating Benchmarks
To create the new high-edge coating, we innovated our powder technology to enable better film build on sharp edges during application. Our high-edge powder coating has proven to provide a minimum of 20 microns (0.8 mils) of coating on sharp edges, far surpassing standard powder topcoats which show minimal, if any, coverage (see picture below.)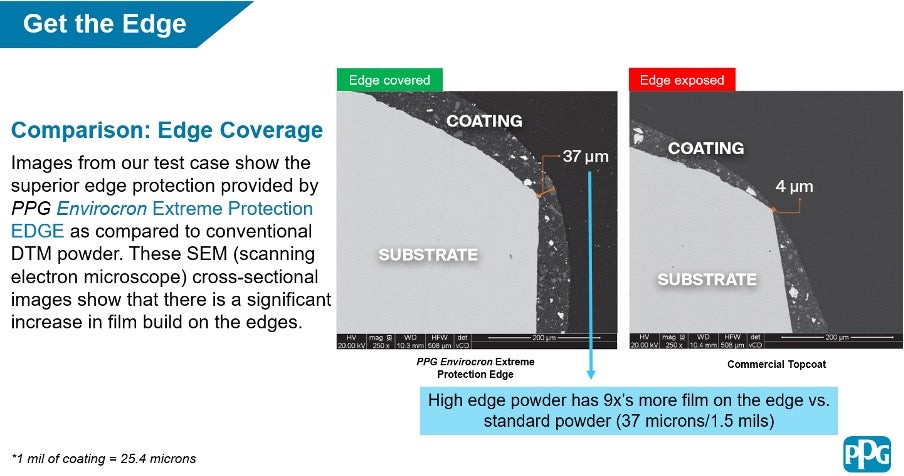 By introducing a coating that stays uniform over sharp edges, we have also provided a way to soften or dull edges without adding any additional cost to manufacturers—making the coated metal product not as sharp, and therefore safer for workers to handle.
In addition to standard and ultradurable polyester topcoats, PPG also offers options in primer. For OEM's that require a two-coat process, we offer an Envirocron Extreme Protection high-edge epoxy primer with exceptional edge coverage, which can be used with standard or high-edge topcoats for outstanding durability and corrosion performance.
Sustainability
Beyond increasing product longevity and providing financial and time savings for manufacturers, our new edge powder coating offers a range off sustainability benefits, including reduced waste and formulations without volatile organic compounds (VOC). "Powder coatings are great because they are traditionally applied at a lower cost, and are specifically formulated without VOCs," said Shelley Verdun, business manager, powder, Americas.
"There's also much less waste as overspray can be recycled, which isn't the case for liquid coatings that can be more energy intensive to recycle and/or dispose. Powder also adds some aesthetic advantages, such as specialty effects like textures, veins and hammertone finishes."
Although liquid coatings may currently dominate the industry, as manufacturers look to reduce waste, powder, instead of liquid, is vastly leading the way as the next generation of coatings.
Given the diverse segments PPG operates in, it was vital that we create a coating that can be used as widely as customers demand. From tractors to electrical panels, to lawnmowers to shopping carts, anything that is exposed to harsh outdoor elements and repetitive corrosive strain can be protected by our breakthrough edge coverage solution.
Envirocron presents a new standard in corrosion protection. We think it's just the beginning of innovation that will exceed the industry's expectations of what powder coatings can do.
Hear from PPG's Maria Lamorey, General Finishes Commercial Manager, on why she's so excited about Envirocron Extreme Protection Edge >