Graffiti is not just an eyesore but, in many instances, a drain on public resources. Graffiti vandalism costs U.S. taxpayers an estimated $12 billion annually but the real cost may be much higher since it's an underreported problem.
Despite efforts to eradicate it, graffiti will happen. But there are steps that can be taken to limit the impact of graffiti as well as prepare for it.
Organizations that study graffiti have found that removing it within 24-48 hours has a profound impact on preventing reoccurrence since graffiti tends to have a cumulative effect.
But rapid removal isn't always so simple. It takes manpower and often harsh chemicals that require protection like goggles and gloves. Sandblasting and repainting may also be required depending on the scale of the graffiti.
Coatings companies are developing safer, more environmentally friendly solutions that are specially formulated to protect substrates from the effect of the graffiti paint itself and the chemicals often required to remove it.
For Valmont Telecom, manufacturer of all types of utility poles founded in 1946, the situation is quite challenging. Unfortunately, poles are a frequent target for graffiti offenders. Responsibility for removing it typically falls to the municipality, which often lacks the financial resources and staffing to keep up with it.
Prior Industry Standard Two-Coat Graffiti Prevention Process
Until recently, industry leaders utilized an anti-graffiti protection system that consisted of a polyester powder basecoat for color and corrosion protection, followed by a clear anti-graffiti powder topcoat.
But the system is an industry-wide problem producing finishing challenges associated with different cure requirements in the two-part powder system.
The other challenge was the time-consuming and laborious process itself. Each batch took about 60 minutes for preheat, basecoat, baking in a 500°F (260°C) oven, cooling, topcoat, re-baking and cooling.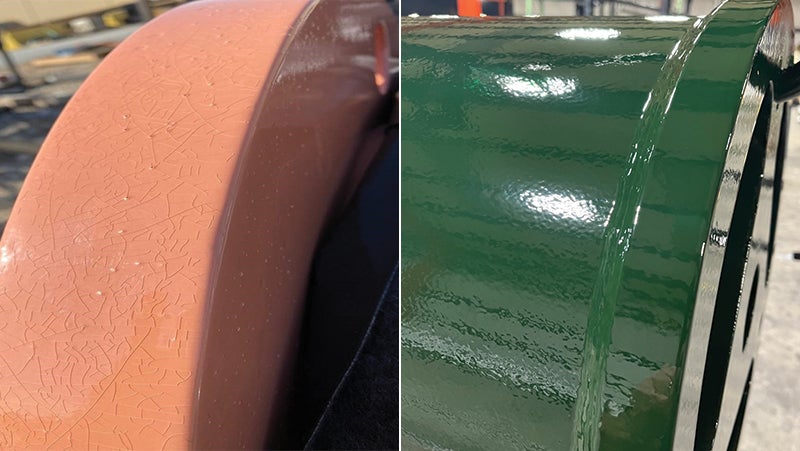 * Image from left to right: Example of finishing defects of previous two-coat system vs PPG anti-graffiti powder coating
Valmont Leads Coating Innovation and engages PPG for a One-Coat Anti-Graffiti Coating
In an effort to provide more graffiti-resistant solutions to their customers and also streamline their own production processes, Valmont was open to a better solution and tested a new PPG one-coat system in preparation for the delivery 5G poles that will be installed by a leading telecommunications corporation.
"I happened to be visiting the Brenham plant for another project when an engineer for Valmont, showed me their problematic anti-graffiti process that consisted of basecoat for color and a topcoat for graffiti protection," said Todd Kiefer, PPG technical sales and service representative. "I was confident that our technical team could come up with a better solution." He was right.
Within a few months, Valmont began to trial a one-coat system using a PPG PCU Anti-Graffiti powder with the hope that it would streamline the production process and reduce the amount of rework.
The PPG urethane powder, tinted in a specified color, cured in approximately 20 minutes at an oven set point of 435°F (224°C).
Not only did the PPG product cure in less time, but no additional steps were needed since the color and anti-graffiti protection is combined in a one-coat process.
Linemen will now be equipped to quickly clean graffiti without harsh chemical cleaners and the protective gear like gloves and goggles that they require.
Single-Source Solution
The integrated poles that Valmont manufacturers feature a number of different parts - shrouds, fans, controllers - that are made from a variety of substrates like plastic, fiberglass and galvanized steel.
Each of these substrates may be protected with a different coating formula in a liquid or powder technology, sometimes made by different vendors. Different chemistries and suppliers make it a challenge to create color matched aerosol paint for touch-ups.
Because PPG is a total solution supplier of liquid, powder and aerosol formulations for a wide-range of substrates, color matching is easier and more accurate.
The PPG technical team spent months to develop a customized solution for the partnership with Valmont to perfect application and color matching process, and test to ensure that the project was successful.
This partnership resulted in something that had never been done before - sending perfectly matched aerosol spray for touch-ups with every pole order.
"I can't say enough good things about PPG," said Bill Meyers, senior product development engineer at Valmont. "Todd and the technical team were relentless in developing this system and were determined to find the best solutions. Beyond color-matching, PPG's lab and testing resources gave us the confidence to know that our poles are protected by a durable product that delivers on graffiti protection promises."
Better Processes Plus Graffiti Resistance
PPG's one-coat anti-graffiti system is a win for both Valmont's customers and the company itself.
Despite a simpler, more streamlined coating process, the poles are protected by durable coating that helps to keep the poles beautiful, well-protected and graffiti free.
The process will help reduce cycle time, improve quality and lower costs for the manufacturer of telecommunications poles.