As one of the world's largest coatings companies, PPG helps to protect thousands of items that we use every day, including bicycles made by some of the leading OEMs in the industry.
But our transportation solutions for the global bike market go far beyond the surface of the frame.
Developing coatings that make bikes more durable, long-lasting and striking with protective color finishes is just the beginning. Our experts also partner with bike makers to streamline their paint application process and to keep customers safer on the roadways with a new PPG coatings breakthrough.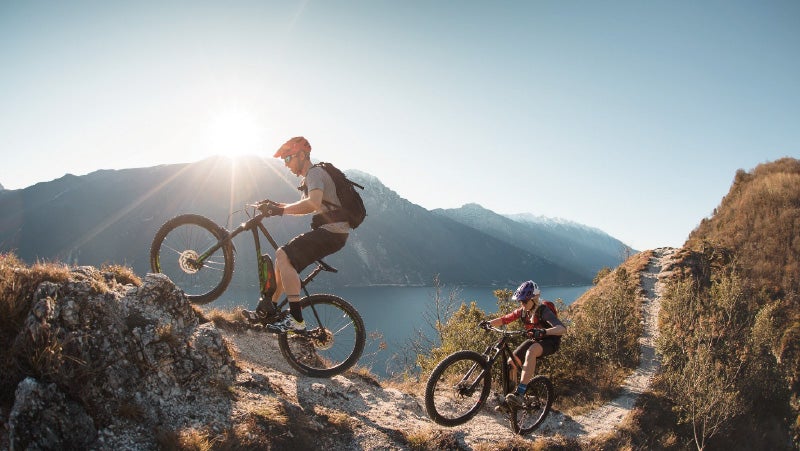 High-Performance Protection
Bicycles take a beating so the coatings that protect them must be built for the long haul and withstand everything from harsh elements to on- and off-road wear and tear.
PPG offers a complete portfolio of liquid and powder coatings for every layer including primers, basecoats, topcoats and clearcoats.
These coatings are engineered to provide: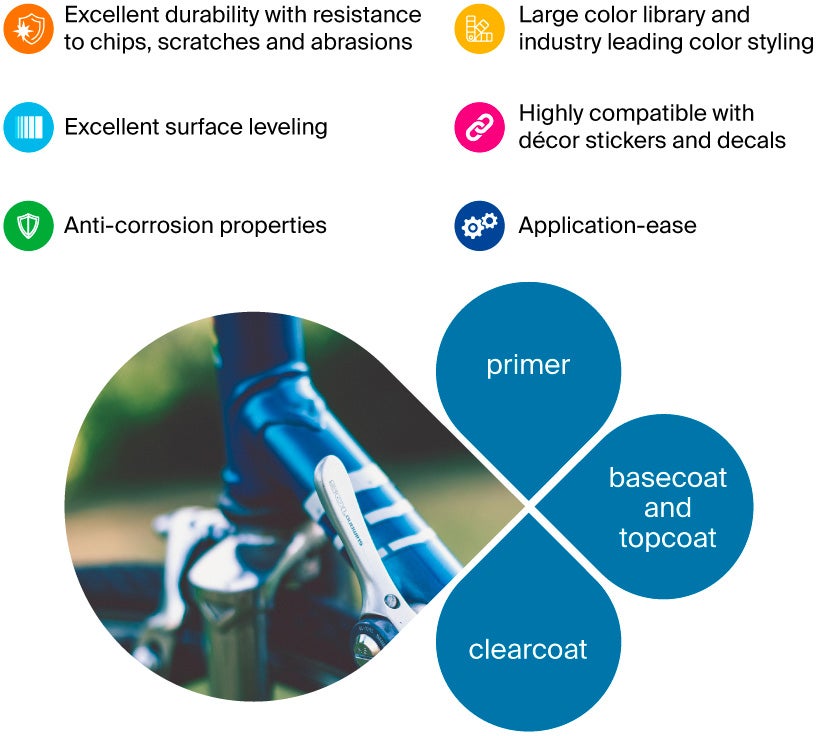 New Coating Innovation Heightens Rider Safety
PPG recently launched a patent-pending retroreflective powder coating called PPG ENVIROCRON® LUM powder.
According to the National Highway Transportation Safety Administration, the risk of fatalities at nighttime when light is limited or lacking is up to three times higher than daytime.
In a major safety advancement, PPG recently unveiled a powder coating that makes bikes more visible at night by redirecting maximum light from headlights back to the driver.
PPG Envirocron LUM coating is a proprietary technology first developed for a ride-sharing company for use on their e-bikes.
Until now, retroreflective options were limited to liquid-based paints and tape. PPG Envirocron LUM is the first commercial powder with retroreflective glass beads embedded in the surface.
The innovation gives manufacturers the opportunity to leverage not just the safety advantages of retroreflection, but the application and performance benefits of powder:
Recyclable and reclaimable
Meets global requirements for low VOCs
High-transfer efficiency for less waste
Chip- and mar-resistance
One-coat corrosion protection
Smooth, even finish
Color & Design Styling
Like most consumer products, color has a major influence on bike purchasing decisions.
PPG's color development and color forecasting process is unmatched in the coatings industry.
Each fall, bike manufacturers participate in our color styling workshops with PPG color experts.
During these workshops participants explore the hottest colors in automotive, fashion, architecture and electronics to identify and formulate the color, glosses and finishes for next season's bike models.
Once the color forecasting process is completed and the colors are formulated for the customer, the focus then shifts to the PPG production cell or in-house paint dispenser cells for coating application.
A specific color is loaded into a cloud-based platform where dispensers are synched to apply a customer coating to each bike frame or component.
Paint Line Expertise
The bike platform team has the expertise to design a dedicated paint shop and optimize coatings operations and processes for more efficient production flow, optimize usage of energy and raw materials and increase product quality and lower cost per unit.
To learn more about the market we serve, download the retroreflective powder coating sell sheet >>
Liquid Products
PPG AQUACRON™ 9000 WPR Primers
PPG AQUACRON™ 9000 WPE Basecoat
PPG AQUACRON™ 9000 WPE Clearcoat

Smooth, perfect finish, requiring less rework
Water-based, low VOC content*

Easy to apply
Excellent durability
Wide range of solid, metallic and pearl colors
Water-based, low VOC*

Available in matt and satin finish
Robust, durable
Water-based, low VOC*
Powder Products
PPG ENVIROCRON® P4 Powder Protection
PPG ENVIROCRYL® Clearcoats

Used as a primer under basecoat and clearcoat, as function basecoat below clearcoat or topcoat
Excellent durability
Specifically formulated without TGIC (triglycidyl isocyanurate)
Solid and metallic colors
Special formulations include ultra durable, thin layer, direct gas fired oven stable
Primer/topcoat system is low-bake with very good adhesion of decals

Excellent durability and chemical resistance
Outstanding outdoor exposure performance
GMA based "World Class Acrylic Powder" in dead matt and high gloss
Excellent flow
* Please contact a PPG representative to get further details.