As a coatings manufacturer and a leading maker of PCs, printers and other technology solutions, PPG and HP, Inc. serve vastly different customer bases but their shared focus on innovation, sustainability and color has fostered a highly constructive and collaborative partnership.
PPG's Keith Cross, global account manager, consumer products, Industrial Coatings, and HP's Stacy Wolff, global leader of design and sustainability, recently connected to discuss the synergy between their companies and Stacey's status as the 2023 Laureate of the American Prize for Design, a distinction that celebrates design excellence and innovation.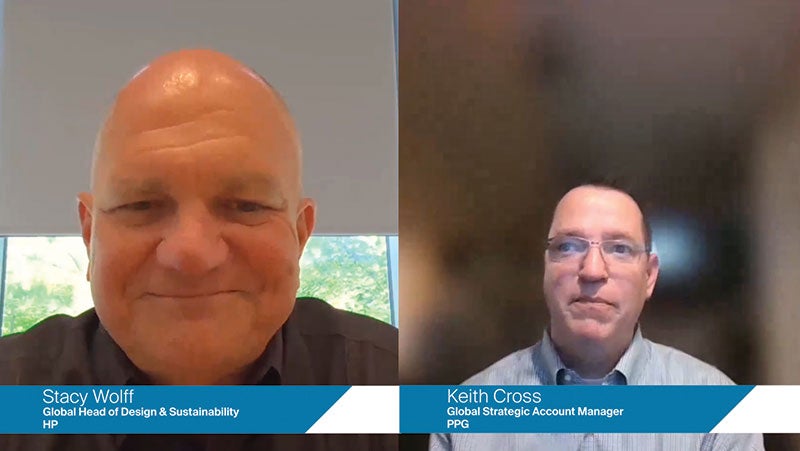 At HP, Stacy focuses on design, color, sustainability and innovation. He has been instrumental in advancing HPs business strategy that marries trend-focused design with functionality, an approach that has produced record success and a handful of industry accolades for HPs dynamic design team.
During the recorded video call, Stacey discussed how the partnership with PPG helps HP to drive design innovation while providing the robustness and durability that consumers expect from HP products.
Stacy shared a little about PPG's invaluable role in HP's design process and how the two companies work in tandem during color workshops that bring together HPs design team - comprised of CMF-focused designers, materials experts, CGI professionals and even a futurist - and PPG's renowned global color styling team.
"You guys have great talent," Stacy said, referring to PPG's color stylists. "A teams like to play with A teams."
The color workshops involve a ton of idea swapping among the teams, visualization, creating concepts in physical form and lot of color batches that are tested and tweaked many times until just the right color is produced.
The process is intense, challenging and centered on the needs of HP customers around the globe. The color work is challenging and intense, but the results speak for themselves. "We've had some great successes and a lot is due to color," Stacy explained.
Beyond their teams' collaborative approach to design and color, HP and PPG share a focus on sustainability, a core part of their respective corporate missions.
For HP, sustainability is at the heart of their design process in terms of the base materials used in their products - with an aim to reclaim, reconstitute and redeploy - and the coatings applied to protect them and extend their service life.
Today, HP, like PPG, is taking steps to move away from the world of solvents in favor of newer waterborne protective coatings and is also relying less on virgin materials in the construction of their products.
During the video, Keith expressed the "shared goodness" between the global enterprises that has created a synergy between them.
The collaboration is driving the development of better, more innovative solutions for both enterprises and serves as a real-world example of the immeasurable power of a true partnership.
PPG's coatings are just the start. The real plus is the total solution you get from a reliable partner. For more info, visit PowerOfAPartner.com.