Without question, what drives excellence in the industrial coatings business is our people.
With unique and varied careers paths, these industry experts bring a wealth of knowledge, experience and insights to our business unit. Today, we're happy to feature one of these valuable team members: Courtney Junghohann Deemer, global business director of powder.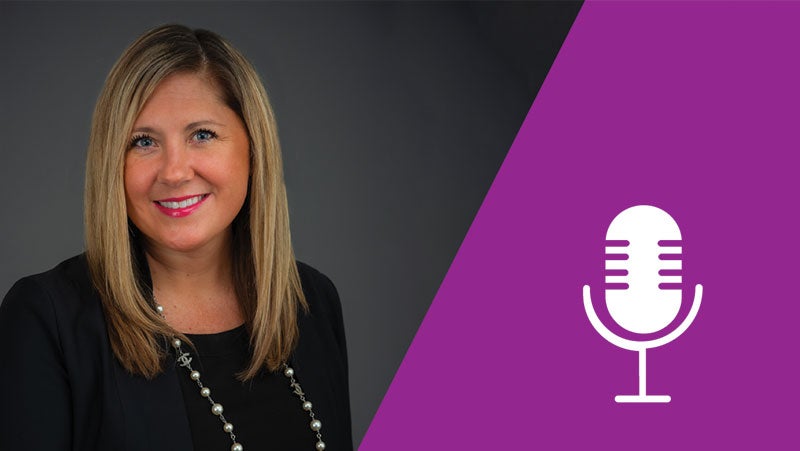 A 16-year PPG veteran, Courtney recently joined Alicia Cafardi, associate director of global marketing communications, on our PPG podcast. During the broadcast, Courtney shared her advice for women working in this traditionally male-dominated field, as well as her plans to grow PPG's powder business.
Click on the link below to listen to the full podcast or read some highlights from the interview below.
Her Start in the Industry
During the podcast, Courtney discussed how her family played an influential role in her career path.
"My father and uncle were in chemical sales, so from a very young age I wanted to follow in their footsteps, but I also loved science. I was encouraged to study chemical engineering. While I was studying, I did an internship in R&D, which only reiterated that I wanted to go into sales when I was done with my undergrad."
She continued, "It's a hard path through chemical engineering but I'm really glad I did it. I went straight into sales with PPG, moving from Pittsburgh to Michigan for my first sales territory. Several years later, I realized chemical engineering gave me a great technical background but very little business expertise, so I decided to pursue my MBA while I was working at PPG."
Advice for Women in the Industry
As an active member of our PPG Women's Leadership Network, an organization designed to support women in PPG's workplace, Courtney has mentored over 20 women.
"When I started at PPG, there were one or two female leaders in the business unit I was in, but often when I was going to meet customers, I was the only woman. Early on, I established that I was a hard worker and brought up, when it made sense to do so, my knowledge of coatings. My background in chemical engineering enabled me to be able to understand and pick up portfolios pretty quickly," Courtney explained.
"In this industry, it can be very intimidating to be in certain situations as a young female. Don't be afraid to let your voice be heard and contribute to the conversation because that diversity of voices is really what makes for a great outcome. I think that it also helps to be able to handle the criticism or constructive feedback … to grow in your own career."
Still Work to Be Done
Over the past decade, the landscape of paints and coatings has changed significantly with the inclusion of more women in the industry than ever. However, Courtney believes there is still work to be done.
"I wouldn't have known about a career in sales or the coatings chemical industry if it wasn't for my family at a young age helping me understand career paths that weren't normally talked about. We need to be getting out to a diverse base in the younger generations to let them know about these opportunities."
The Future of Powder
For more than 30 years, PPG has been a pioneer in powder coatings that combine performance with beautiful finishes. As we continue to innovate, the technology behind our powder has never been more exciting. Courtney shares some of insights about the growth in powder and why the technology is attracting more attention.
"Everything about powder excites me right now. We've got a great portfolio, an excellent team and a good business here in powder... We're hitting the gas and really accelerating growth.
"Right now, we're seeing customers move … to powder coatings from an environmental perspective and additionally benefitting from incredible performance properties. It can be used indoors and outdoors in a variety of segments and a wide range of beautiful looks can be achieved. The list goes on and on of all the different areas that powder can be used, but we're starting to see it on alternative substrates because of our new low-cure technology that we offer within our portfolio. The options are endless with powder."
Find out about PPG's company-wide commitment to expanding opportunities for women in industrial coatings >