PPG's Industrial Coatings business is proud to feature some of the key people behind our business through this Get to Know blog series.

As the business manager for PPG's powder coatings in the Americas, Shelley Verdun is focused on growth by exploring new markets, driving pipeline execution and supporting innovation.
Enjoy this first-person account of her work within PPG's Industrial Coatings business and what drives and inspires her professionally and personally.
What prior roles did you have with PPG?
I've spent my entire 35-year career with PPG, all but the last eight years in powder coatings, so I've worn many hats.
I was hired right out of college as a product development chemist in aluminum extrusion, then progressed to a color services manager position and technical director for coil and extrusion. My career then took a turn when I accepted a role as a global product manager in powder coatings, which lead to my current role.
What are the biggest opportunities that you see for powder coatings?
Since I became involved in powder coatings, the technology has really evolved in just a few years and with it my enthusiasm for what powder brings to the table. I feel fortunate to have made the transition to powder at a time when global interest in more sustainable solutions is soaring. It's an exciting time to be in powder.
I also know that there is a tremendous growth opportunity for powder. While it is the fastest growing coating technology, powder coatings have a relatively small share of the market. I'm proud to play a small role in driving powder growth through my work here at PPG and through the Powder Coating Institute (PCI).
Speaking of PCI, you were recently sworn in as the first women president of the association. What does that mean to you?
I'm so honored and reflective on my journey with the organization that started in 2015 when I really saw a need to get more involved with PCI. I started to attend events, volunteered on committees and became an involved and invested member. Through those experiences, I saw how important education was to advance the industry and how PCI could capitalize on those opportunities.
In 2021, I was asked to join the executive committee, which started my three-year progression from secretary/treasurer, vice president and now president. I'm so proud to be the first woman to serve in this role. But I hope that I'm just the first of many.
I am so humbled to sit in a room with competitors, partners, suppliers who are all willing to put their own agendas aside to work together because we all share the belief that a lift in the industry helps us all. And we do that through education, networking and training.
How has your work with PCI helped you in your career?
It's been invaluable. From a strategic point of view, it has given me a 360° view of where the market is headed through my interactions with equipment makers, job coaters, raw material suppliers and even competitors. I've brought that knowledge back to PPG.
During your long career with PPG, what are you most proud of?
Of course, I'm very proud of being the catalyst to get PPG re-engaged with PCI but beyond that, my work with the IVC Industrial Coatings acquisition in 2015 remains one of the most rewarding things that I've ever done. As someone who was new to powder, it was an incredible learning opportunity for me and instrumental in PPG's growth and investment in powder. As an integration lead, I was proud to be the cultural role model for PPG.
What motivates you in your current role?
I am a true champion of powder, not just because of its finishing capabilities, but as a way to reduce our impact on the environment. I hope that my legacy is to help people see the big picture of the importance of powder coatings on industry and the planet.
What advice do you have for others just starting out in the coatings industry?
I've always been relentless in my pursuit to learn. Because of that, opportunities have presented themselves throughout my career, so my advice is to look for opportunities to get involved, learn and make your voice heard.
But it's also about connecting with people. Early in my career, I worked with a woman who had been with PPG for 55 years before she retired. She frequently reminded me that a computer never sold a gallon of paint. It's about people, relationships and connections. That's a lesson that has stayed with me.
What do you like to do in your spare time?
I enjoy exercising, especially with friends, golfing and spending time with my husband and Maggie, our one-year-old Doodle.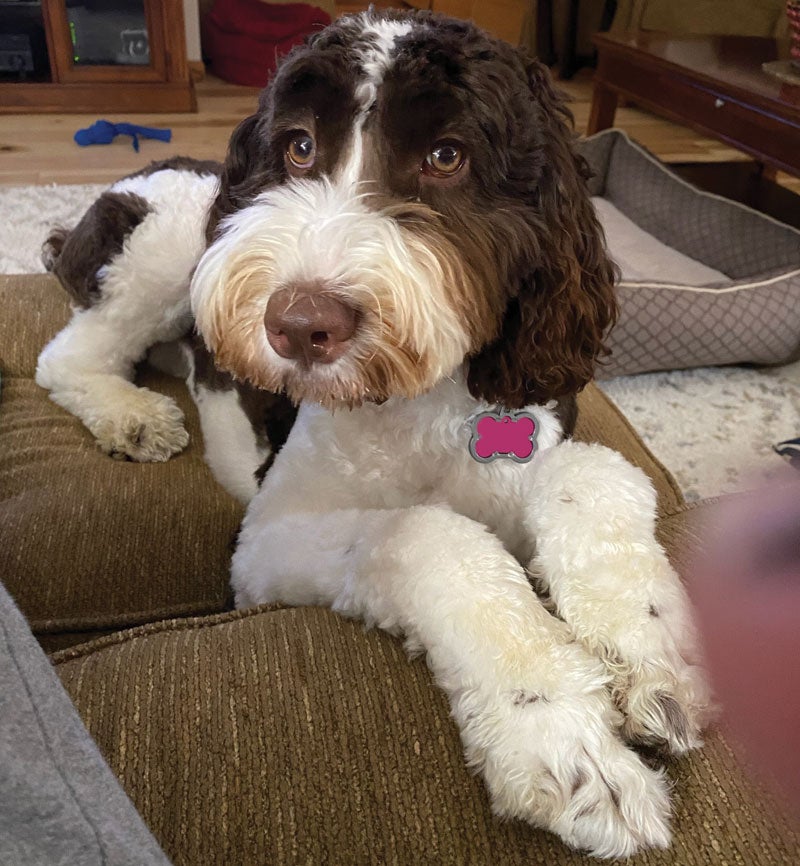 Want to know more about people in industrial coatings? Read more here >