Innovation is at the heart of what we do in industrial coatings, but did you ever wonder about the people behind our cutting-edge products? In the coming months, we will introduce you to a few of them.
David Linford, EMEA appliance segment manager and global key account manager, joined PPG in 2012 and has held six different roles in two PPG business units in the years since.
We recently chatted with David about some exciting projects, his remote working experiences and the PPG coatings that fascinate him.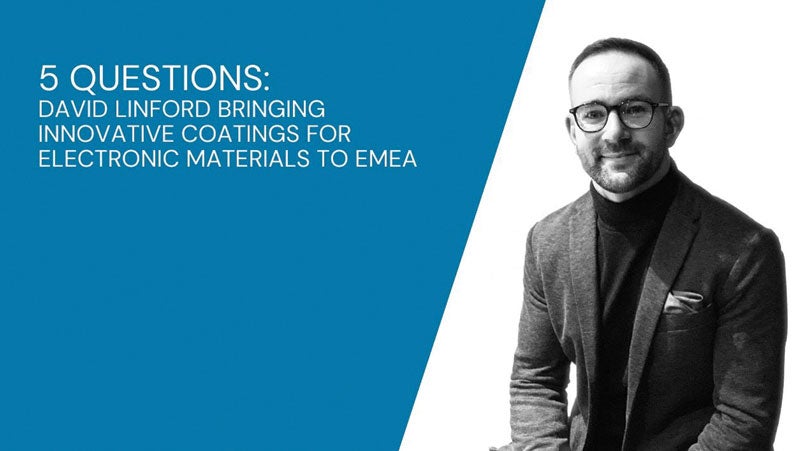 What is your favorite part of your role at PPG?
Having two roles at PPG not only allows me to network more with great teams internally, but I also get to meet more customers and get a better understanding of the markets that we serve. I'm constantly finding out what's important to the customer, such as sustainability and color trends. My favorite thing about my role is that no day is the same. Even during lockdown every day is different, whether it's the people who I'm talking to or the projects that I'm working on.
What current project are you most excited about?
Working with our electronic materials team over the past three years has opened my eyes to the incredible coatings that we manufacturer for the world's largest technology companies. These coatings have a variety of exciting features, such as anti-fingerprint technology, anti-glare properties to reduce the light bounce off of plastic and glass, and waterborne and UV technologies to suit customer sustainability needs. I'm really excited about working with our Asia Pacific teams to bring these coatings to the EMEA appliance market.
How have your PPG experiences shaped your present role?
In all of the roles I've held within the business, the two most important experiences have been having good mentors and priding myself on building the best and strongest network I can across the business globally.
How are you adjusting to remote work?
I'm very fortunate that prior to lockdown I was already working remotely. However, since COVID, I've been using Microsoft Teams, WeChat and WhatsApp to communicate with my colleagues more than ever. Since moving to Microsoft Teams, more and more people are using their webcams during calls, almost bringing you inside their homes. I often get to meet their children because many of us are homeschooling, or their spouses. I think it's been great for helping to build good relationships.
What products were you surprised to learn were protected by a PPG coating?
I think some of the coatings that have surprised me are actually from various other business units, such as packaging coatings which make a coating for the inside of beverage cans so that the metal doesn't affect the taste of the drink.
Additionally, for the mobility and automotive segments, I find printed electronics and conductible inks fascinating. We can remove circuitry boards, and in turn reduce weight, to make a vehicle lighter, but still allow the circuitry to be there with printed electronics solutions.