Industrial shelving and racking systems are mission critical to the supply chain.
The e-commerce boom shows no signs of slowing. Accelerated by the COVID-19 epidemic, online sales are expected to account for over 20% of global retail sales by the end of this year.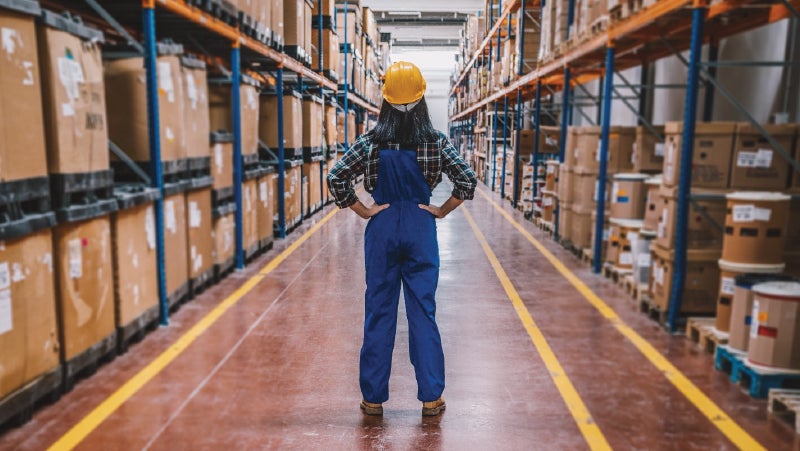 While consumers are filling up their virtual shopping carts at a breakneck pace, retailers are feeling the strain to keep up with the material handling demand. Warehouse, fulfillment and distribution center operations have never been so important or so challenging.
From inventory management software to the shelving and racking systems that store products, protecting this infrastructure is critical to managing larger inventories, improving order processing speeds and keeping workers safer on the floor.
Warehouse and Racking Systems are Big Business
Globally, the warehouse racking market is an $8 billion industry with annual growth of up to 5% predicted for the near future[1].
Clearly, companies are investing heavily in this important infrastructure so keeping them in good working condition and up to the task is high priority. Industrial coatings play a critical role in protecting industrial shelving and storage racking systems and material handling processes.
Choosing the Right Coatings for Shelving and Racking Systems
Metal components corrode for any number of reasons, including continuous or repeated exposure to elevated temperatures and humidity, damaging pH (acid) levels, electrolytes, chemicals and ultraviolet (UV) light (sunlight). The right type of coating can help prevent damage from these corrosive factors.
As more warehouses turn to robotics and automation to increase efficiency, it's crucial for shelving and racking manufacturers to select coatings that will stand up to the daily wear-and-tear of servicing and managing larger and larger inventories.
Coatings manufacturers offer a variety of resin chemistries to improve resistance to corrosion and UV exposure, including epoxies, polyesters, urethanes and acrylics, as well as hybrid coatings, which incorporate a combination of resin chemistries. Each have strengths and weaknesses.
For instance, epoxies are ideal for chemical resistance and mechanical properties, but are lacking in UV resistance and weatherability. Polyesters, urethanes and acrylics all offer exceptional weathering characteristics, but their benefits vary, such as great physical properties for polyesters; chip, scuff and mar resistance for urethanes; and outstanding surface appearance for acrylics.
Typical solutions for shelving and racking applications include two-coat systems featuring a primer coat for corrosion protection and topcoat for color, appearance and UV resistance.
PPG Innovations Help to Keep the Supply Chain Moving Forward
Because of their sharp edges, recessed areas and complex shapes, industrial shelving and racking systems are notoriously hard to coat.
PPG has engineered high-edge and high-transfer solutions that address the challenges of protecting these complex components.
Specifically, PPG ENVIROCRON® High Transfer Efficiency coatings incorporate next-generation, single-coat powder coatings technology that generates transfer efficiency rates of up to 85%, improved wrapping of complex parts and enhanced control over the film thicknesses applied to those parts. PPG Envirocron Extreme Protection Edge powder coatings deliver superior protection for sharp edges, recessed shapes and hard- to-cover features with a single coat and excellent first-pass transfer efficiency. Together, these coatings work to reduce the costs of labor, material and utilities.
PPG's broad portfolio of industrial coatings are designed with state-of-the-art technology to provide a physical barrier against corrosion, oxidation and abrasion, common challenges in rugged material handling environments.
All coatings are available in an array of colors to meet specific aesthetic and performance requirements.
Mar/abrasion-resistant options
Excellent corrosion and UV resistance
Sag resistant
Advanced technology options superior edge and one-coat protection
Anti-skid options
PPG SILVERSAN™ antimicrobial*-protected powder coating
Multi-substrate compatibility — steel and plastic
Trusted and specified by original equipment manufacturers
Extensive color palette
Read more about what you need to know to keep the supply chain flowing >
*Antimicrobial is limited to the surface of the cured film to provide mold and mildew resistance on the paint film and to inhibit the growth of stain and odor-causing bacteria that may affect the surface of the coating. The use of these products does not protect users of any such treated article or others against food-borne or disease-causing bacteria, viruses, germs or other disease-causing organisms.
[1] Source: Market Study Report - https://www.globenewswire.com/news-release/2022/03/03/2396034/0/en/Global-warehouse-racking-market-size-to-record-3-7-CAGR-through-2027.html