The pandemic and the widespread adoption of remote working have opened up new opportunities for workers around the globe, including PPG's Maria Strid, commercial excellence manager for powder coatings Europe.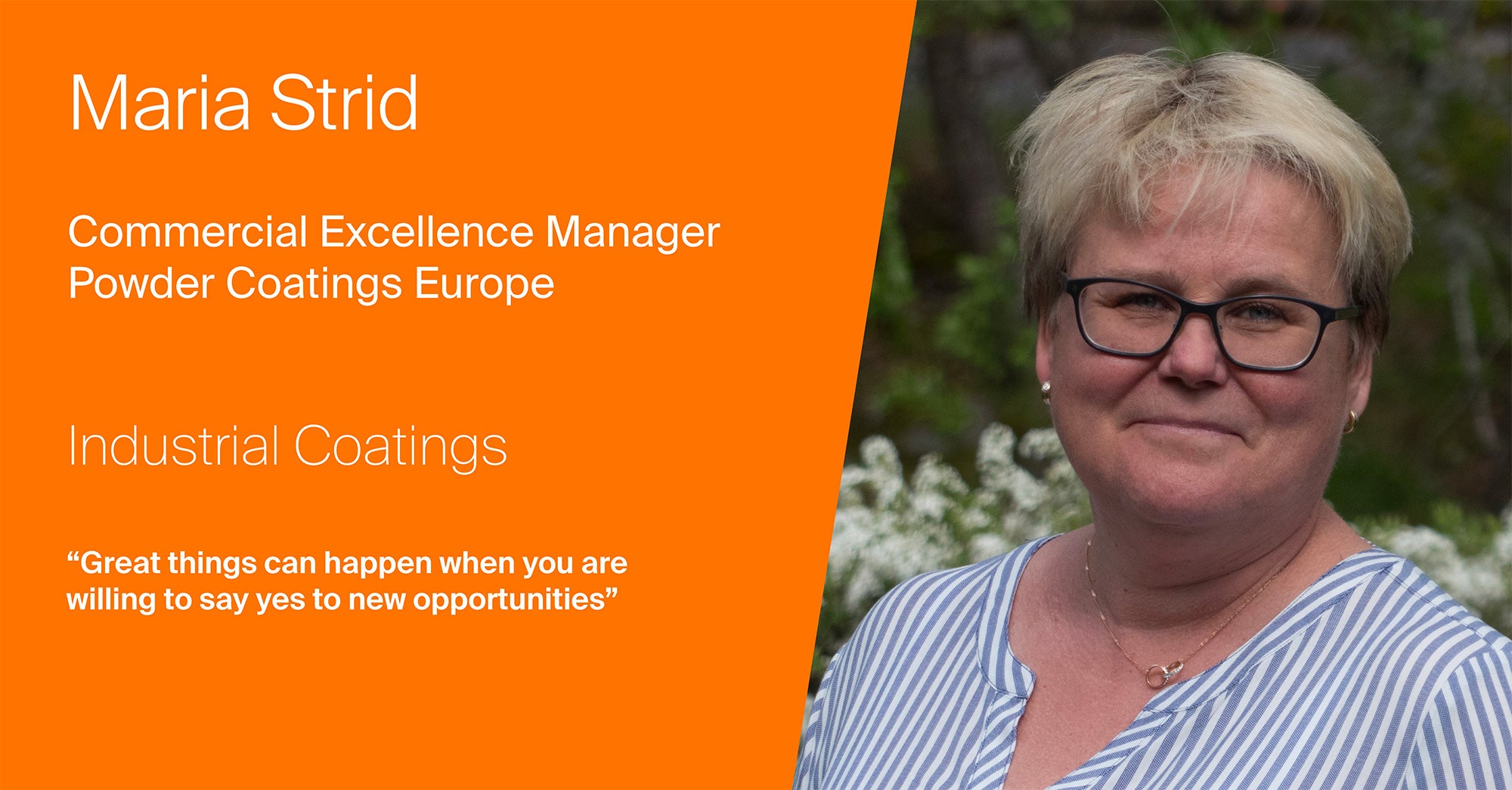 After a thirty-year career with Axalta, covering several positions in R&D and product information management, Maria felt that the time was right to explore opportunities to further her career development and growth, a decision that led her to the PPG powder coating team in 2021.
The opportunity to learn new skills, work remotely, and reconnect with Anne Banuls, a former Axalta colleague now PPG's regional powder business manager for industrial coating EMEA, inspired her to embrace this new experience.
"It was a big and scary change, but at the same time a very intriguing opportunity. After seven months, I am still excited and have no regrets in joining PPG", Maria says.
Facing new challenges in the powder industry
Despite having been with the company for less than a year, Maria is making her mark.
"Through a daily analysis of our product portfolio and raw materials price evolution, I am able to develop tools that help our sales team offer the right, most economical solution to our customers." More and more, she explains, one of those solutions is a low-cure technology.
Maria says that rising energy costs have more customers interested in low-bake powder systems that increase efficiency and productivity, while reducing environmental impact.
"From 1993 to around 2004, I was one of the pioneers working with the development of low bake and UV curable powder coatings for heat sensitive substrates. At the time the market wasn't ready for this technology, but that has certainly changed."
With her interest in low-cure powders, Maria was excited about the new PPG ENVIROCRON® HeatSense powder coatings, which the company launched in late 2020.
PPG Envirocron HeatSense coating enables manufacturers of wood, wood-composite substrates and dense, oversized metals to realize the sustainability benefits of powder coatings, while producing goods with the greater toughness and durability that powder coatings typically provide.
"I am happy for the opportunity to continue my work in this area and contribute to a profitable growth of PPG powder coating business in Europe through more sustainable products", Maria reported.
Maria's interests align well with her next challenge: supporting growth initiatives through the leverage and synergy with Tikkurila, a sustainably focused Nordic paint company that was recently acquired by PPG.
It's all about people
Another source of her PPG pride is the energy and excitement of her colleagues. "Starting a new role for another company with new responsibilities and coworkers during a pandemic was a bit of a challenge," she admits.
Maria found working from her home office in Sweden with no opportunities to travel and meet people to be arduous. But "thanks to a really good guidance from my manager and my colleagues via virtual meetings and trainings, I managed to get into my new role much faster than I ever could have imagined." She has no regrets about stepping out of her comfort zone to tackle new opportunities with PPG.
One of the most important and practical lessons Maria has learned in her professional life is that any task can be interesting and fun, even if it's completely outside your experience and expertise. Her advice is to embrace change and opportunities to grow professionally. "Great things can happen when you are willing to say yes to new opportunities."
Find out more about PPG Envirocron HeatSense >