Over the past four years, PPG has been expanding powder coating operations to meet surging demand and to move the company closer to the goal of achieving 40% of sales from sustainably advantaged products and processes by 2025.
As part of these strategic powder initiatives around the globe, PPG recently completed a $15 million dollar expansion project at the company's powder production facility in Brazil, Indiana, located about 60 miles west of Indianapolis. The plant, which employs 90 people, currently produces powder coatings for appliances and general industrial manufacturers.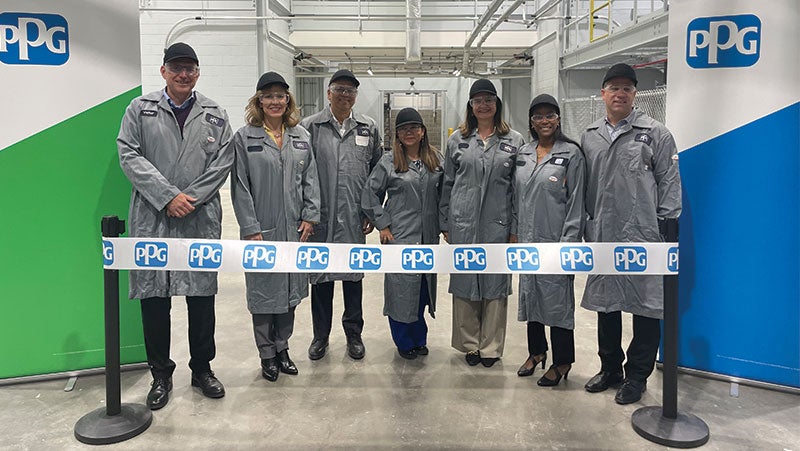 The Brazil facility increased by 20,000 square feet to accommodate two state-of-the-art lines for bonded metallic powder and automated packaging capabilities.
The upgrades will enhance PPG's ability to serve powder customers through greater product and process quality control, while decreasing lead times for color matching and production. Twelve new employees are expected to be hired at the plant.
"The expansion was quite an undertaking that required efforts from our local team up to senior leadership," said Orel Salinas, plant manager. "I'm so proud of what we accomplished together and am excited at the value that these upgrades bring to our customers."
PPG commemorated the expansion with a ribbon-cutting event at the plant on April 26, which was attended by company leaders, plant employees, government officials and community members. About 100 were on hand for the celebration.
In addition to Orel, speakers at the ceremony included Kevin Braun, vice president, PPG global Industrial Coatings; Ram Vadlamannati, senior vice president, PPG global operations; and Marizeth Carvalho, general manager, PPG Latin America South and global director, powder coatings.
"An expansion of this size takes a tremendous amount of time, effort and dedication from leaders, employees and the community," said Kevin Braun. "I'd like to thank our incredible PPG team and the Brazil community for making this expansion possible."
Beyond the upgrades at the Brazil plant, details about additional expansions across the U.S. and Latin America are being planned for 2023 to meet rising demand for powder coatings.
One factor driving the rapid adoption of the technology among manufacturers is a growing interest in more sustainable solutions. Powder coatings are generally made without solvents that release harmful volatile organic compounds (VOCs) emissions, the target of rigorous regulatory control around the world.
"Powder is the fastest growing coating technology in the world, and we are committed to meeting the demand through investments in R&D, strategic acquisitions and investments that ramp up our production, enhance our capabilities and expand our global footprint," said Marizeth Carvalho.
Since 2019, PPG has focused on growing its powder coating manufacturing capacity and capabilities, making four strategic acquisitions and expanding worldwide production and service.
As a leading supplier of powder coatings to the automotive, general industrial, appliance, furniture and other key industries, PPG has an expansive global footprint with 21 powder manufacturing plants, seven plants with bonding capabilities, a powder resin plant, a research-and-development center and a Global Center of Excellence.