With a striking glass façade framed in red powder-coated metal, the Bulletin Building has undergone a dramatic transformation since its days as home to the Evening Bulletin, an iconic Philadelphia newspaper that closed in 1982.
Built in 1954 in Philadelphia's University City neighborhood, the monumental building was designed by famed architect George Howe who favored sweeping, uninterrupted expanses.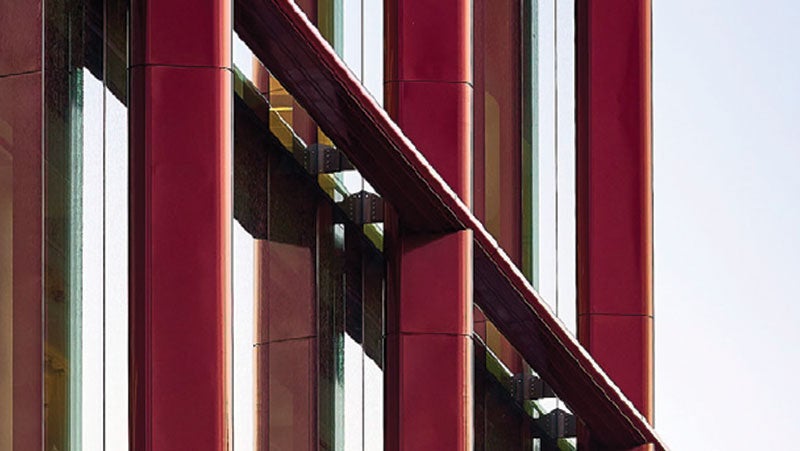 This style was reflected in the Bulletin Building's signature feature-an east-facing, windowless façade of gray glazed brick.
Today, this four-story building has been completely transformed and PPG's high-performance architectural metal coatings played a starring role in the transformation.
Striking architecture and thoughtful design
After the newspaper closed in 1982, the building went through a series of renovations and Brandywine Realty Trust, the developer, and architectural firm KieranTimberlake brought the current vision for the 14-acre mixed-use neighborhood to life.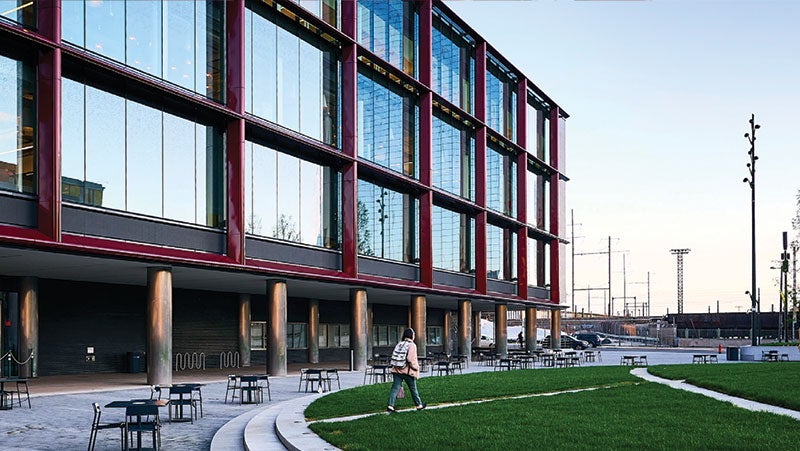 The ribbon windows added by Drexel University when it acquired the property in 1983 have been replaced by expansive walls of clear glass, framed by metal cladding in a shimmering deep cherry color, custom formulated by PPG.
To develop the stunning "Galaxy Red" formulation and its sparkling aesthetic, PPG's architectural metal coatings team leveraged the company's automotive coatings expertise. The result is a PPG CORAFLON® powder topcoat that incorporates glass flake technology to add shimmer, depth and dimension to the metal framing.
Spectrum Metal Finishing, a member of the PPG CAP CERTIFIED APPLICATOR PROGRAM™, intensified the three-dimensional pearlescent effect with an exclusive two-bake paint application system that kept the glass flakes from seeping into the basecoat.
Exterior high-performance
Based on a proprietary FEVE formulation, PPG Coraflon powder coatings were specified for their FGIA/AAMA 2605 weathering performance, durability, colorfastness and gloss retention.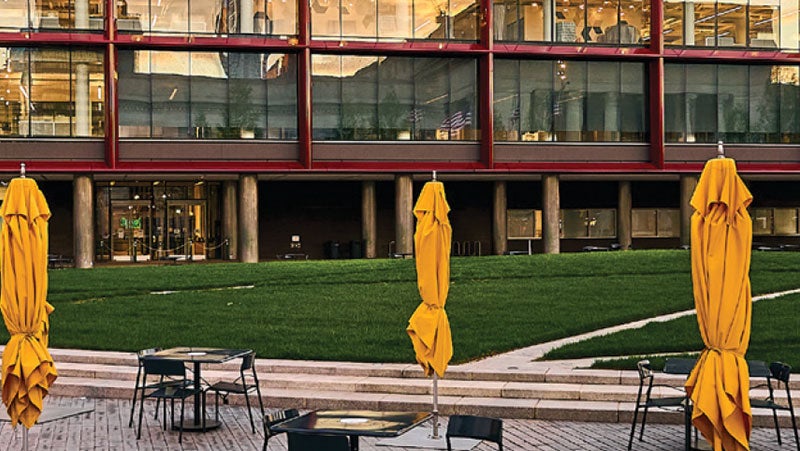 Ideal for restoration and repair of new and existing architectural metal, PPG Coraflon Air-Dry System (ADS) in the same deep red was also used to touch-up panels during installation.
Read more about the Bulletin Building's transformation using PPG powder coatings and its prominent role as the centerpiece of this urban planning success story.
Download the full case study PDF >
Find out more about Coraflon in our blog here >
*Photo credit: Bulletin Building by KieranTimberlake. Photo by Matt Krissel.