For centuries, copper pots and pans have set the standard for distinctive beauty and exceptional heat performance. But innovations in coatings for cookware are bringing new alternatives to the kitchen that rival the benefits of copper, without the high price tag and maintenance challenges.
Benefits of Copper Cookware
Copper cookware is among the most popular materials in both home and professional kitchens due to the benefits of this natural metal, including:
Superior heat conductivity for fast, even cooking: Copper cookware distributes heat more efficiently than other surfaces, sometimes ten times as much. Food cooks more quickly and evenly, which reduces problematic hot spots and burning.
Cookware made of copper has a good weight: Copper cookware is heavy enough to sit securely on burners but light enough to lift easily.
Copper has a gorgeous aesthetic: The look of copper is distinct and elegant, which is among its most appealing attributes.
Copper Cookware Challenges
While the beauty and performance of copper are well-documented, there are some notable challenges to consider before investing in copper cookware.
Health Concerns
Since copper is highly reactive, acidic foods can tarnish and damage the finish, which can lead to the metal leaching into the food. Because of this, most copper pots and pans are lined with tin or steel. While tin wears more easily, requiring replacements every few years, steel is more durable, but more costly.
High maintenance
Heat alters the color and appearance of copper, often changing to orange, purple or dark pink. But proper cleaning and regular polishing are required to maintain copper's signature brilliance even when not in use. Additionally, unlike their stainless-steel counterparts, copper pots and pans are not dishwasher safe and must be hand-washed and hand-dried to prevent spotting.
Premium price with premium performance
Copper pots and pans are among the most expensive cookware on the market today.
New Coatings Innovations Are Turning Up the Competition with Copper
Thanks to recent innovations in cookware coatings, consumers who want the uniform thermal heating conductivity and beautiful aesthetic of copper without the high price tag and maintenance needs have great new options.
PPG HALO nonstick coating
Like copper, PPG HALO™ non-stick coating has excellent uniform thermal conductivity, and when formulated in the signature reddish brown color, HALO nonstick coatings add a touch of refinement to the kitchen.
The benefits of cookware coated with PPG HALO aren't limited to its unsurpassed resistance to wear, quick-release of food and durability:
HALO contains a unique formula of special additives that absorb heat from the stovetop more quickly and distribute it more evenly across the surface of the pot or pan, which allows heat to reach and penetrate food as quickly as possible
HALO's impressive heat distribution also helps eliminate "hot spots" that can lead to burnt food
HALO is a three-coat, internally reinforced nonstick system engineered to outlast other internally reinforced coatings
HALO is available in a variety of colors and dishwasher safe
Uniform heat transfer (reduces burn spots)

Thermographic (heat-sensitive) photography shows how HALO transfers heat faster and more efficiently than other nonstick coatings.
Hot spots cause problems such as longer cooking times, uneven heating and wasted energy — all of which can be avoided with HALO non-stick coating.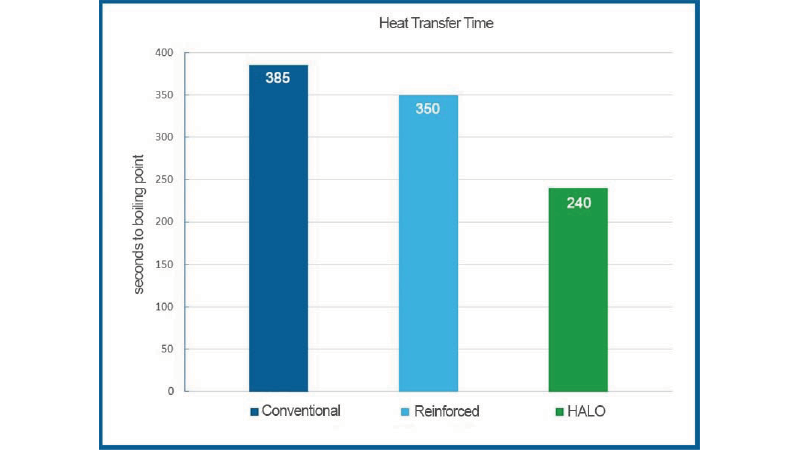 Comparison between copper cookware and nonstick cookware coated with HALO nonstick coating. Transfers heat up to 62% faster.
HALO Heats Up Kitchen Market
With its signature beauty and cooking performance, it's no wonder that copper is still one of the most popular and top-selling materials for cookware today. But it's not for everyone and new coatings for pots and pans like PPG HALO that offer great nonstick and cooking performance, low maintenance and a wide range of color options are heating up the competition for space in today's kitchens.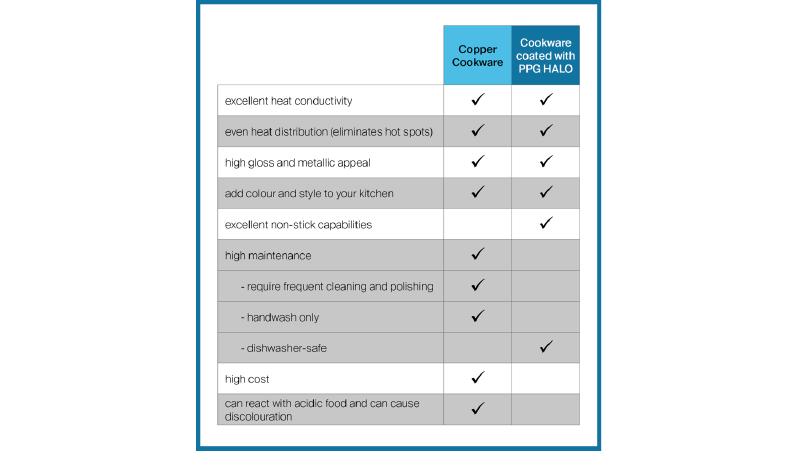 Find out more about PPG coatings offering for the kitchenware market; visit our digital trade show.