As a global leader in advanced coatings, paints and specialty materials, PPG believes that sustainability is a powerful competitive advantage. Birte Hoock, PPG's product and market manager, EMEA Powder Coatings, is a key proponent of this position.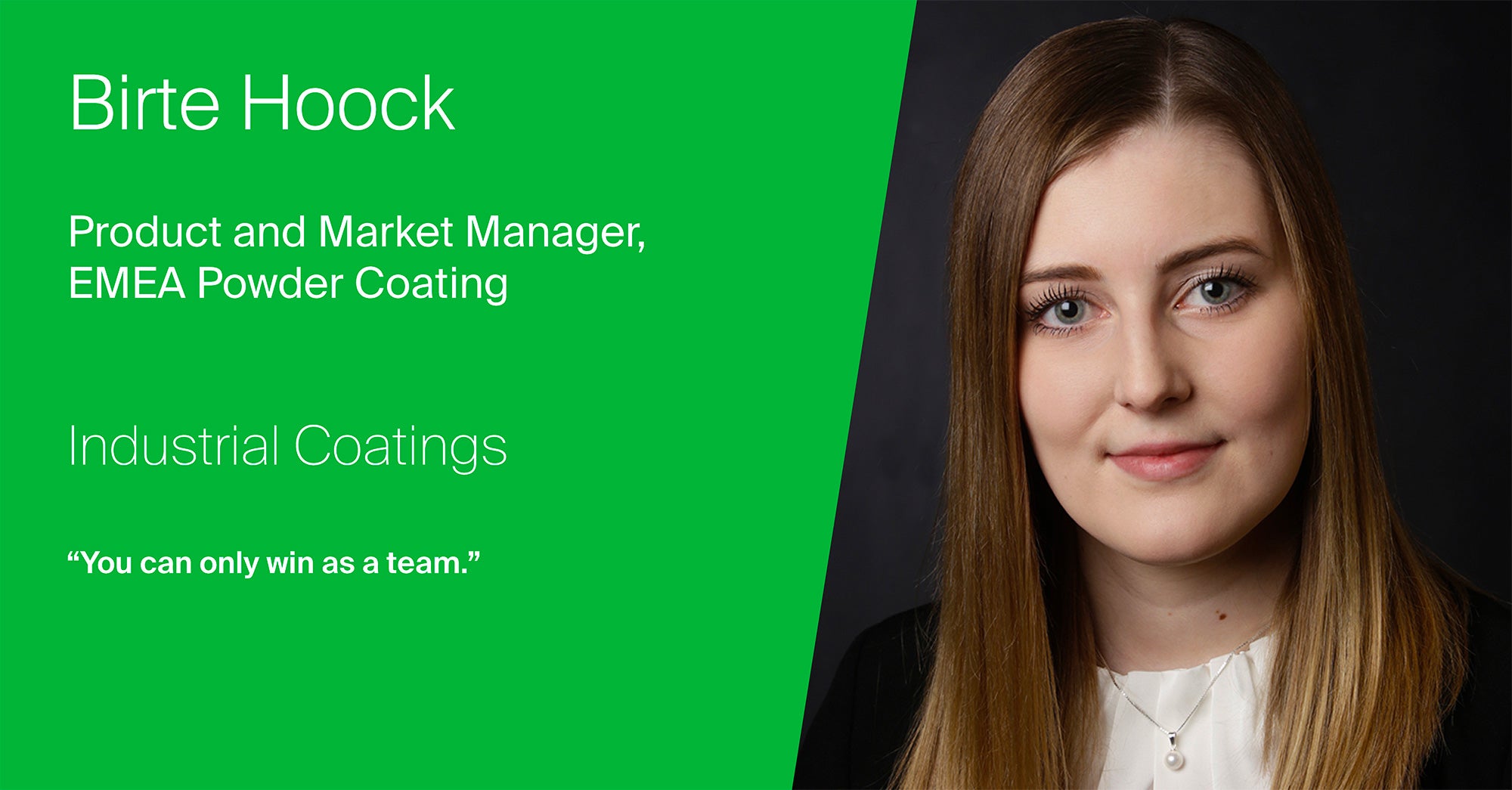 The power of synergies and teamwork
After completing her Master of Science degree in international management at the Strathclyde Business School (UK) in 2018, Birte accepted a role as product manager at Wörwag, a recently acquired subsidiary of PPG. After the acquisition, she moved to Anne Banuls' team as the product and market manager for PPG powder coatings in the EMEA market. The main responsibilities of this position include managing new product launches and implementing cross-selling strategies.
Beyond her expertise in product management, Birte spent 15 years as a professional volleyball player, an experience that inspired a philosophy that guides her both personally and professionally.
"I try to leverage the unique strengths of my colleagues. I truly believe that we can only win as a team. This has been a key factor in working towards our sustainability targets," she explained.
"I think that sustainable development is a nice opportunity for the industry. Now is a good time for us all to work together to find innovative solutions that meet our customers' needs and limit the impact on the environment at the same time."
Birte is enthusiastic about the future of PPG's powder business. "There are a lot of different innovations out there right now which are very interesting, such as our new mobility solutions or low-bake systems that allow us to use powder on even heat-sensitive substrates, including wood and plastic.
Birte says she is most excited about the upcoming launch of PPG ENVIROCRON® ULTRAX™ polyester powder coatings series, which combines the ultra-durable and low cure system, product features that have been separate until now.
The future of powder coatings in the EMEA market
PPG's powder coatings have a long history of providing durable, protective finishes for a variety of substrates in applications that range from appliances to automobiles and everything in between.
Specifically formulated without solvents, PPG's family of specialty powder coatings include low-cure, high-transfer efficiency, one-coat extreme protection for sharp edges, dielectric powder and ultra-durable powder technology for automotive trim.
The powder coatings market in Europe is constantly growing and the demand for high-performance powder coatings is increasing. One of the main growth drivers is growing interest in product durability and sustainability.
"We are seeing a movement from standard products to high-quality, high-performance products, a response to various market trends" says Birte. "Right now, the most influential trends in the powder coatings market are increasing asset protection and life-cycle extension, process efficiency, sustainability and styling."
Birte believes that customers not only expect a product to have a high corrosion resistance or ultra-durable features, they also look for increased efficiency or energy cost reduction while still delivering a perfect, high-quality finish. PPG's Envirocron UltraX system is a perfect example since it is designed to achieve excellent fastness properties, while maintaining an extremely low VOC emission level.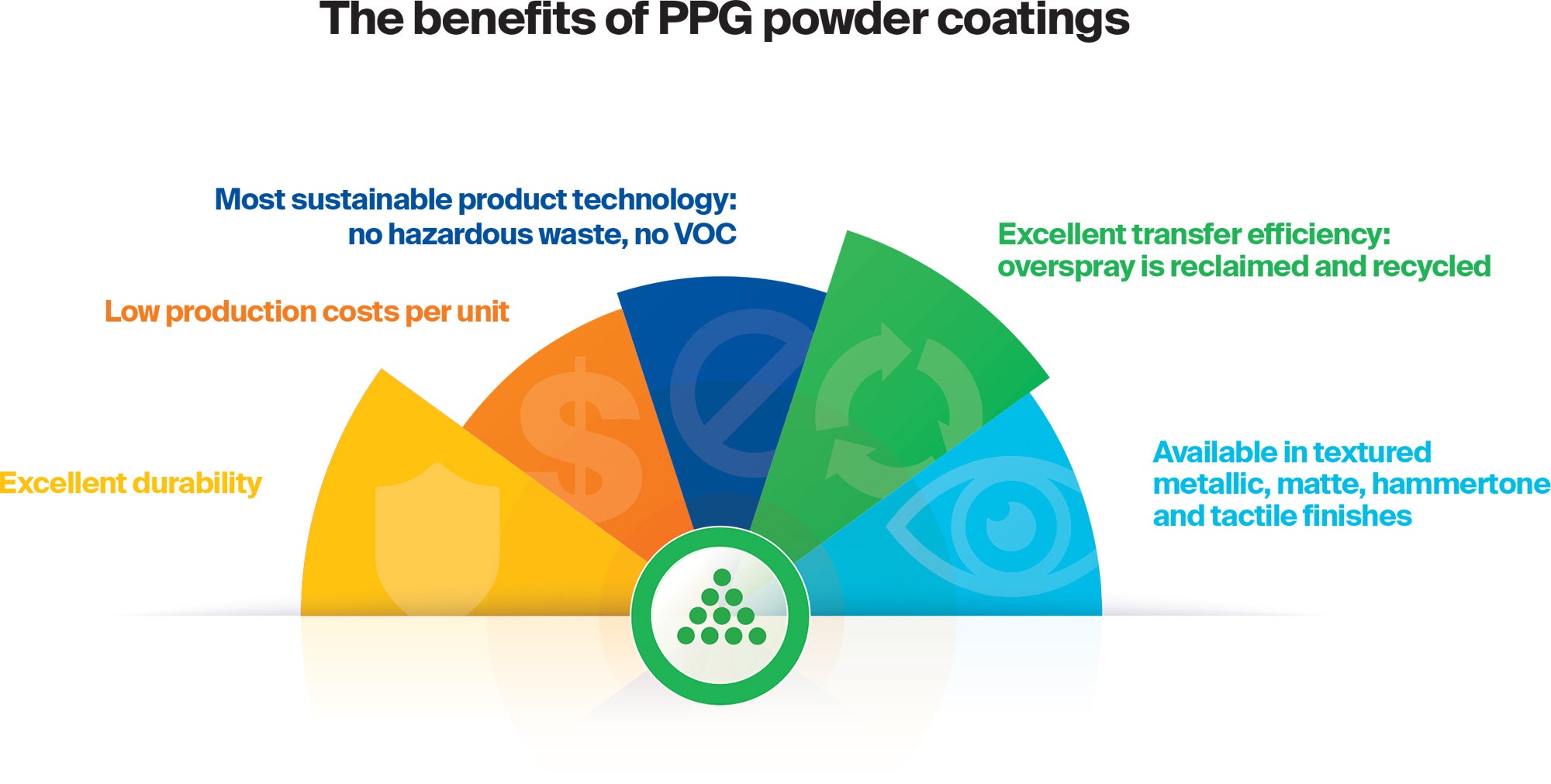 Stay up-to-date on PPG coatings innovations by following us on LinkedIn at @PPGIndustrialCoatings.