PPG's 2021 paint color forecast reflects a renewed focus on wellbeing, sustainability and human connection. But how are these trends influencing the wood-stain looks in our homes, institutions, retail spaces and workplaces?
Before she retired in December, Dee Schlotter, PPG's senior color marketing manager, North America, discussed emerging trends in residential and commercial design in a webinar hosted by the National Wood Flooring Association.
Dee's discussion included overviews of PPG's color forecasting process, top macro design trends and the latest in wood stains and styles. Here are a few key highlights.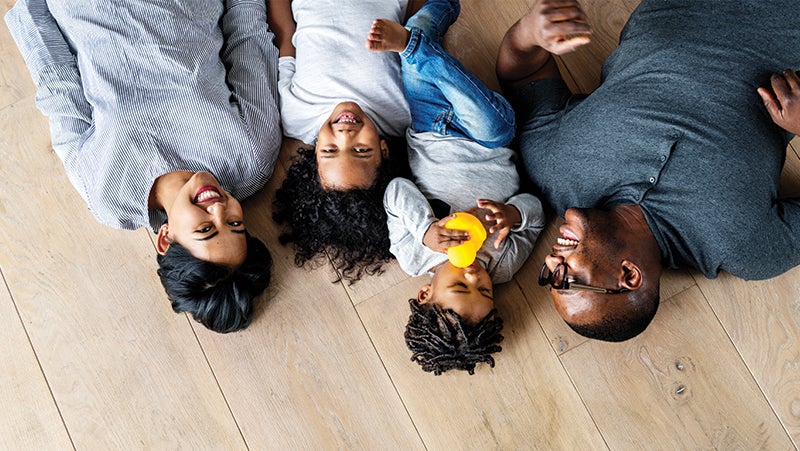 PPG's Color Forecasting Process
PPG is trusted by top manufacturers to identify color trends and develop hues that appeal to their customers and sell their products. But how are these important color decisions made?
PPG's annual color forecast is based on industry research, world events and changing social norms. The process is incomparable in scope and expertise in the industry and a force behind PPG's status as a global color leader.
Industry Insights
Each year, PPG's global color team convenes for three intense days to explore all things color, including color trends in the automotive, industrial, consumer electronics and architectural industries from ten different countries. This international, multi-industry focus provides color insights that span markets, regions and cultures.
World Events
Beyond industry trends, major global events also shape color and design trends in ways that reflect the world around us. The global recession of 2008 is a great illustration.
Driven by economic uncertainty and a subdued mood, grey displaced white as the most popular wall color for new home construction. In fact, 13 years later, grey still reigns, making it one of the most enduring color trends in modern history.
Social Drivers Behind the Trends
2020 was a profoundly challenging and unusual year. COVID-19 transformed every aspect of daily lives, including how we worked, learned and socialized.
According to the PPG color team, these changes inspired four noteworthy macro design trends for 2021:
Greener – Biophilia, the marriage of nature, sustainability and design, is not new, but interest in this style is exploding. The urge to reconnect with nature is accelerating demand for more authentic, natural wood colors inside and outside our homes.
Kinder – Feeling uncertain and fragile in an unpredictable world, consumers are seeking comfort in warm mid-tones and softer wood colors, even in traditionally sterile institutional settings.
Smarter – Consumers have embraced intelligent solutions for wellness, including tools to monitor sleep, blood pressure and steps. This widespread adoption of personal digital devices is leading consumers to resist cold, clinical settings (think traditional hospital reception areas) in favor of high-touch, warm and soothing surroundings, a look created by tone-on-tone wood.
Brighter – Ongoing uncertainties are contributing to a global shift to lighter, more positive surroundings. Finished wood ceilings and monochromatic color schemes are growing in popularity because they inspire feelings of hopefulness, comfort and security.
Wood Stain Colors & Finishes for 2021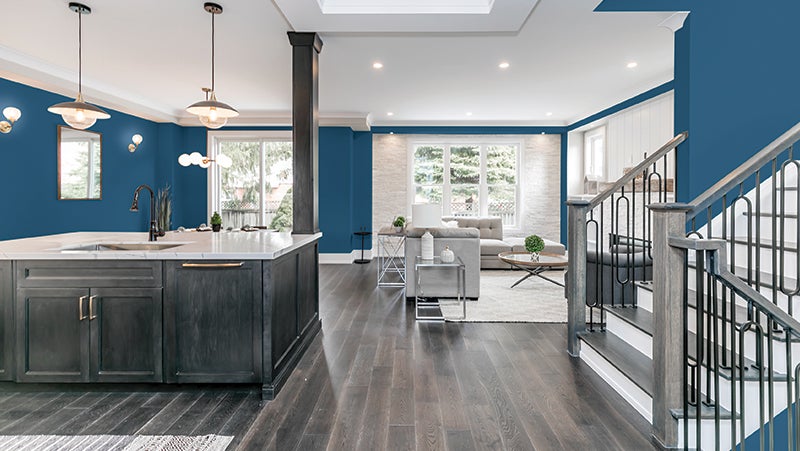 With these macro trends in mind, our stylists expect these colors, designs and wood finishes to grow in popularity in both residential and commercial environments:
Finished wood ceilings. Consumers are turning to the warmth and beauty of wood to bring the outdoors in and create spaces that feel secure and comforting.
Statement walls. Paneling is making a comeback and today's modern styles come in a variety of designs and textures to create cozy, soothing spaces.
Same color used en masse. With interest growing in quieter, more harmonious spaces, designers are incorporating fewer colors, an industry term called palette reduction.
Herringbones and chevrons. As wood becomes more popular, consumers are turning to distinctive patterns to add visual and creative appeal.
Mixed planks and grain. Varied yet coordinated colors of wood add visual interest and texture, without looking too busy. The result is a more natural look.
Random or mixed-width wood. Reflecting the imperfections found in nature, this trend is making a comeback as consumer preferences shift to authentic design elements.
Textures. Featuring hand-scraped, wire-brushed and distressed wood, this up-and-coming trend creates a distinctive look and feel.
Finishes. Wood with satin, matte, oil and waxed finishes creates a natural, low sheen finish that is both warm and refined.
Scandinavian hygge. Synonymous with simplicity, warmth and comfort, this trend will remain popular for its minimalist color palette anchored by black accents and paler woods for cabinets and flooring.
Mid-century darker woods. Although no longer at peak popularity, there is still interest among consumers who favor this nostalgic, time-honored look.
Farmhouse vintage. With a focus on essentials, vintage farmhouse reflects a growing interest in simplicity, minimalism and less cluttered spaces.
Coastal gray-beige. While cool greys for walls and floors are a long-lasting trend, warmer beige grays are gaining in popularity. Color analysists believe that this shift will lead to an emergence of pure brown shades in the years ahead.
True browns. From exceptionally light, pine colors to browns free of natural red undertones, browns found in nature are a rising color trend to watch in 2021 and beyond.
If you would like to watch the webinar, you can catch up on it here: https://register.gotowebinar.com/recording/3470347180683991056